By Lidia Fluhme
After our plane touched down in Bogota's El Dorado airport, the flight attendant spotted the helmet attached to my backpack and immediately struck up a conversation about cycling. The conversation felt a bit strange because she knew so much about cycling that I swore she was a cyclist herself, but she kept referring to cyclists as "you" or "they". Turns out that she wasn't a cyclist but she proudly told me that cycling is the #2 sport in her country, so of course she knows a lot about it.
And then Uli, my husband, and I walked off the plane and the whole jet bridge was covered in cyclists! Movistar ads featuring their pro cycling team on bikes. We looked at each other in disbelief. It was incredible to see the attitude of Colombians towards the bike. Even in Italy there aren't ads like this.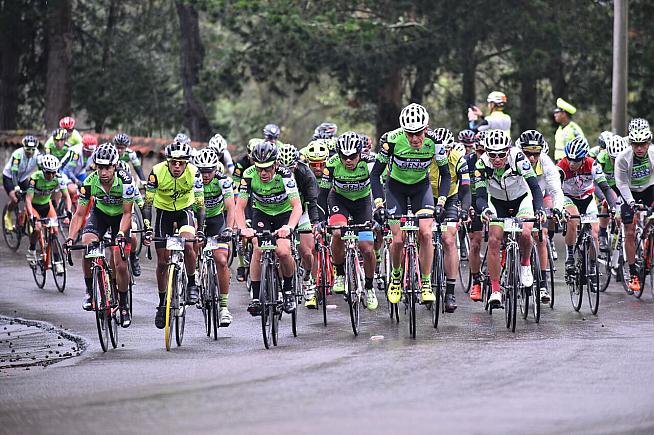 As we spent the next few days meeting people, riding the race course and taking in some touristic sights, it became very obvious that Colombians are very warm and genuine people, and they are very passionate about cycling.
We booked a room in one of GFNY Colombia's official host hotels, City Flats in Bogota, and through the hotel we also booked our airport transfers, a car to drive us to the course for some pre-race riding and the same car to take us to the start in La Calera (30 minute drive) and also drive us back to Bogota after the finish.
It was apparently not unusual that car service vehicles have car roof bike racks or that drivers drive behind their cyclists carrying any extra mechanical equipment, spare clothes, water and food. The hotel also offered us the service of a mechanic to come to the hotel to clean and prep our bikes before and after the race and a sports massage therapist.
EXPO
The pre-race expo is open Friday and Saturday. We arrived on Saturday morning and packet pickup was a breeze. The expo was located in a huge tent inside a beautiful, spacious, clean park, el Parque Museo de El Chicó. Being a mother of two little boys, I would be remiss not to mention the fantastic playground equipment in that park.
Uli and I walked through the expo and checked out the various products for sale and booths of race sponsors. As we chatted with a few riders we knew, more riders were coming to packet pickup and the excitement and energy kept building. We took a few pictures with the huge GFNY letters as we walked out and left the expo on a high note, feeling super pumped for race day.
Then the driver took us to La Calera for a pre-race ride. Of course just moments after the start it began raining. But it was a brief rain that didn't have much chill, even though I was soaked, I didn't need more than my base layer, jersey and arm warmers. I was glad to have my cycling cap to shield my eyes from the rain and cover socks to give an extra layer of warmth for my feet. I saw many other cyclists take on the same elements. It seems like in Bogota it's difficult to plan a ride without rain, if you want to ride, just go out and ride and be ready for rain.
RACE DAY
The forecast for CRM GFNY Colombia is for 100% chance of greatness. The race offers the challenging mix of high altitude, strong rain showers and fierce competition. The infamous La Cuchilla climb with its 11,040 feet (3,365m) of elevation is at the core of what makes GFNY Colombia the highest mass participation cycling event in the world, together with GFNY Mexico City.
GFNY Colombia offers two distance options: a long route of 138km / 86miles with 2,439m / 8,001ft of climbing and a medium route of 98km / 59miles with 1,471m / 4,826ft of climbing. Both courses are fully closed to traffic.
The town of La Calera, situated just 30 min from Bogota, is the host of the start and finish of the race. With its proximity to Bogota, La Calera is not only the weekend getaway for city people, but also the main destination for hundreds of cyclists on a daily basis.
And La Calera rolled out the red carpet for the 2nd annual CRM GFNY Colombia. The start corrals were on one of the main roads in the town, drawing lots of spectators to watch and cheer as the peloton departed. The mayor of La Calera even joined GFNY for the first couple kilometers on her mountain bike.
As soon as I started cycling, I remembered again I was at altitude and started huffing and puffing while others around me just breezed by, seemingly without any effort. My lack of oxygen and heavy breathing was so extreme I had to dial down the effort and find a sustainable pace.
The race's key section is the infamous "La Cuchilla" climb. Neither its 11km length nor its altitude gain of 700m make it stand out among revered climbs. The maximum gradient of 13% is stingy but manageable. What makes La Cuchilla so hard is its absolute altitude. The climb starts at the altitude where famous Col du Galibier tops out: 2,600m. When all is said and done, the crest of La Cuchilla towers a whopping 600m above feared Passo dello Stelvio, at the literally breathtaking height of 3,365m.
It wasn't long before it started raining, but we were more than ready to be wet. And because the race takes place at the equator, even though we're 2,700m-3,000m high, it doesn't really get freezing cold. Even at the top of La Cuchilla de Guasca I was warm enough descending in heavy fog and rain with a rain jacket.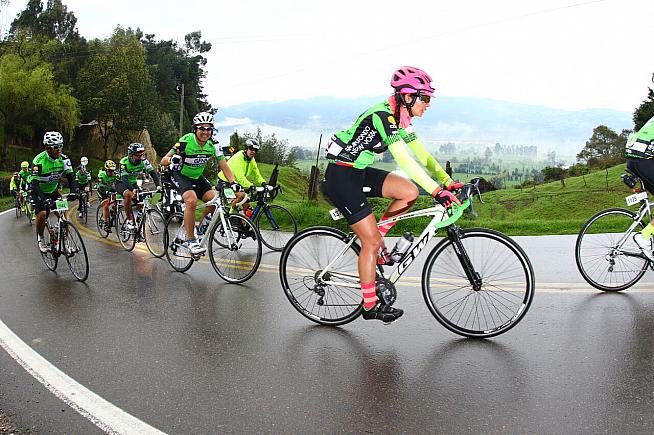 After the descent from La Cuchilla, the race course heads through a few small villages, along a lake on slightly undulating terrain and does a U-turn in the charming town of Sesquilé. The locals were out in full force cheering for us. The town looks very cool, and to have so many people out to cheer us was a memory I won't ever forget.
Here was the only aid station that I stopped at and it had a full assortment of various snacks, foods and fruits and drinks on offer. I loved how many women took part in CRM GFNY Colombia. These ladies are fierce! There was nothing easy about the course or the weather conditions, but I saw a lot of women who welcomed the challenge and conquered it in style.
We returned to La Calera, to the finish line, using the same road that we took on the way out. As La Calera neared, I was worried about that climb to the finish because I wasn't sure how much toll the previous hills took and how I'd feel at the end in altitude. The hilltop finish came into view and three riders just ahead of me sprinted and left me in the dust. After crossing the timing finish, there is a short descent. We were routed by course marshals through a series of turns into the heart of La Calera: the town center. As we neared, the music and cheering grew louder.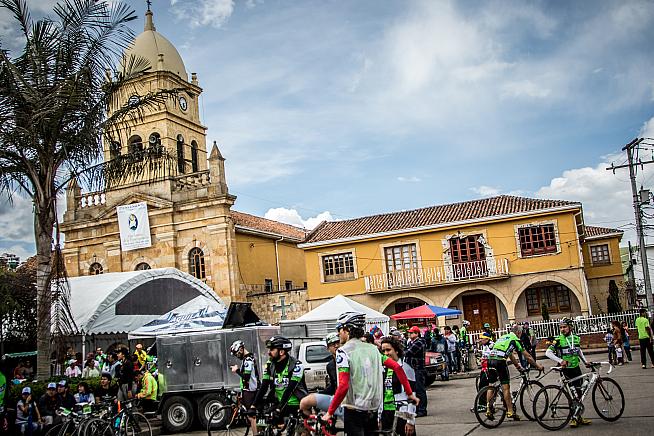 After crossing the celebratory finish line, we received a finisher medal and were planted squarely in the very center of all the action happening at the town square. Over a dozen local vendors of foods, textiles, souvenirs and arts and crafts were selling their goods and were treated to cultural performances like dancing and drums. Plus so many riders from so many different countries and Colombian cities, all sharing their post-race war stories or catching up with old friends. Finishing such a challenge gave the riders a huge sense of accomplishment and that fantastic festive mood carried on throughout the afternoon.
"WOW!" I said to Uli. "That race was incredible. This party is incredible. We're coming back next year!"
 Lidia Fluhme is president of GFNY. She and Uli Fluhme created and run Gran Fondo New York.
Read ride reports:
0 Comments