By Valerie Enriquez
The snarky title isn't intended as derision towards the ride or the group so much as the general error everyone makes in reading "The Road Not Taken" by Robert Frost. It's actually not so much about individualism and making one's own way in the world so much as Frost making fun of his friend for being indecisive. So, this is a bit more modern of a literary reference than my usual quoting of long-dead Roman-era leaders. Yet, at the same time, the ride captured the spirit everyone seems to wish the poem did and on top of that, raise funds to help protect these places where one can go to awaken such spirit.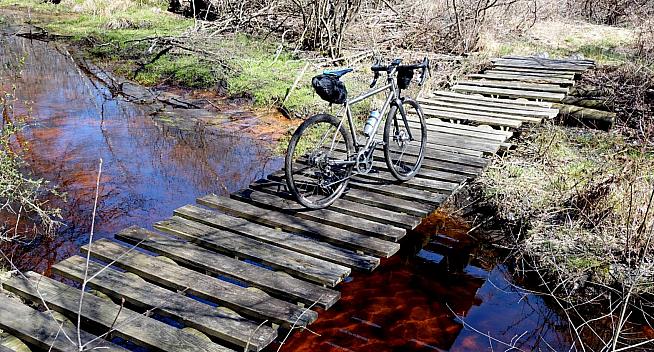 Overland Base Camp
 raised a total of 
$3,167
 split evenly between 
Lexington Conservation Stewards
, 
Friends of Arlington's Great Meadows
, and 
New England Mountain Bike Association. 
 In return, we had our choice of exploring 17 or 41 miles of mixed terrain all within the Arlington/Lexington area just north of Boston/Cambridge.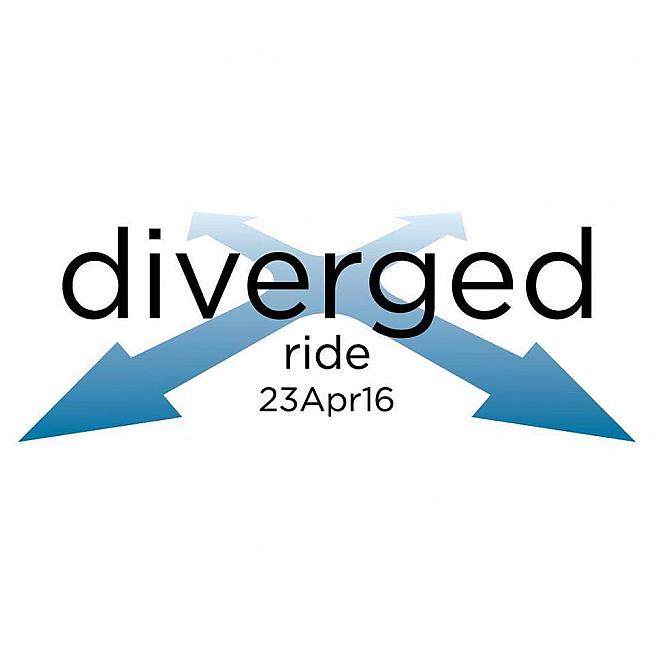 Since 
Dan
, my boyfriend, was asleep when I called him from the originally agreed-upon rendezvous point at Alewife, I got to watch the organized chaos of 120 riders mill through 
Ride Studio Cafe
, checking in, grabbing some delicious coffee, French toast, eggs, fruit and oatmeal before setting off into the increasingly-damp morning. I had initially signed on with the 9:38 a.m. group, but had opted for the solo ride instead after a curious wave of that same New England individualism. Yet in this case it was more like how Thoreau had lived on Walden Pond on his own, but 
went home on weekends to have his mom do his laundry
 since RSC had loaded the route on my GPS device and I would never actually be that far from civilization. And yet, that is the main point of the ride. It's not like 
VOMAR
 where you go into "Here there be monsters" territory and you lose cell phone signal for half the ride. It's about discovering the wild spaces that just happen to be near the middle school or just around the corner from that Dunk's. Granted, in Massachusetts, you're pretty much always around the corner from a Dunk's. Either way, I had no idea that any of these beautiful green spaces existed.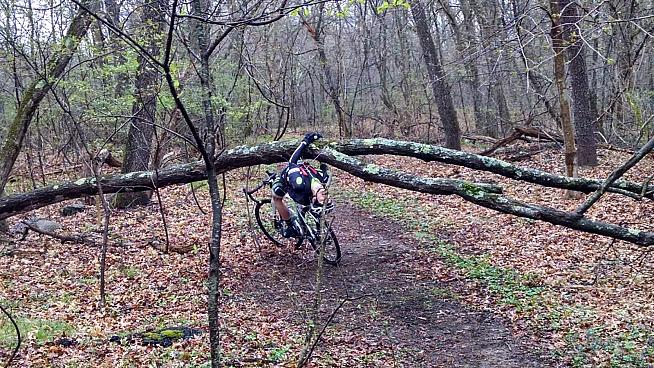 Dan met me just before 10:00 a.m. as it was starting to pour. As much as it pained me, we decided to opt for the shorter 17 mile instead of the originally planned 41 mile ride since I knew I'd still need some gas left in the tank to ride back to Boston. I was amazed at all the work that had been done to create and preserve such idyllic trails. So many planks built, though those had to be handled with care due to being slightly slippery when wet and a few over by the middle school were still in-progress, so Dan got to show off his bunny-hopping skills while I awkwardly tried to remember my dismount/remount technique. Even the rocks and tree roots were easily traversed on a cyclocross bike with 32mm knobbies. Along with running into the other group-led rides passing through, we encountered a fair share of dog walkers and hikers about as it started getting nicer outside. If the VOMAR was the test of my physical limits regarding climbing in the cold and bumpy descents, the Diverged ride was very much a "stop and smell the petrichor" type of ride.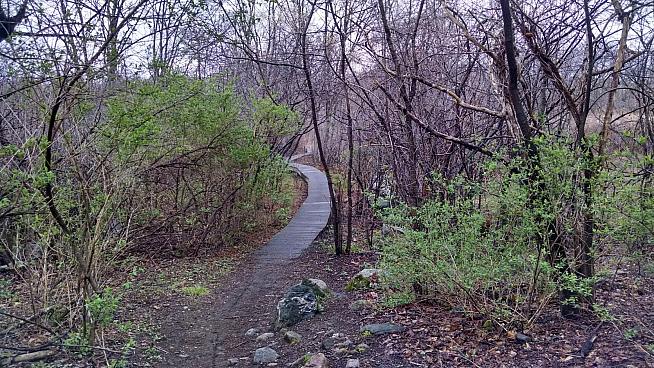 There were farm fields and meadows galore. We went through quiet residential area streets to find blink-and-you'll-miss-it signs pointing out the trails. Once in the woods, we would twist and turn, flowing through wet leaves and dirt only to more or less get spit back out right where we started from. At one point, I actually was worried we had accidentally invaded someone's backyard when we encountered someone trimming his bushes from the trail side of their fence, but the man just smiled and waved us through. We had crossed through the Minuteman Bikeway a few times and it amused me that I had passed through so many times not realizing the treasure that lay just off the mixed-usage path into the trees. Each turn we took and trail we explored was as verdant and lovely as the last with an equal amount of dead leaves punctuated by the occasional tire tread in mud. If I could bottle that smell of freshly-rained forest trail, I would never want for perfume again.
Before we knew it, we were back at Ride Studio Cafe. One of the longer group rides arrived as we were enjoying a nice pourover coffee and exchanging cycling pleasantries with my friend Darcey. Dan and I took an easy ride back, stopping for enchiladas on the way. By that point, it was so nice out, I took off my jacket and had to swap out the clear lenses on my glasses for the red lenses. As much as I would have also enjoyed taking the longer route, I feel like I got to see much more of Lexington and Arlington than I had ever gotten a chance to see before even with the shorter route. Plus, I ended up taking the nap to end all naps once I got back, so I was clearly more tired than I thought.
To borrow once more from Frost: And years later, I imagine I will be telling people about this ride and how I took the 41 mile route on my own and that will have made all the difference... Except, this being the internet, there is now a record of me having taken the shorter route instead, resulting in me fulfilling the actual punchline of the poem after all. Thank you to Overland Base Camp for the reminder that we're never too far from a good adventure. All we need to do is look a little ways off from the roads and paths we already know.
0 Comments