By Carolyn Altman
My legs were ready, my Bianchi tuned up, and like Maria von Trapp in spandex, I longed for the hills, but it was looking like I wasn't going to escape the Georgia flatlands for the long weekend I'd planned.
Monday: heat pump died - $8K. Tuesday, Mom called with medical results that could have been better.  Wednesday: fender bender. Thursday, I won a crit, but my pick up died at a gas pump halfway home in the middle of nowhere at midnight.  So much for getting a jump on the morning drive to Asheville, North Carolina for the Gran Fondo National Championship Series, an event I'd looked forward to since a psoas pull took me out in 2015.
"Just let me know when enough is enough," the bruiser masseuse looming over me had said back then.
I can take a lot.  But the farm boys in the beater the next pump over couldn't get my truck to jump.  Neither could my teammate Glenn, who showed up at 1 am with a tool box.  After tinkering and banging, Glenn came out from under.  "I'll fix it this weekend," he said.  "Go race."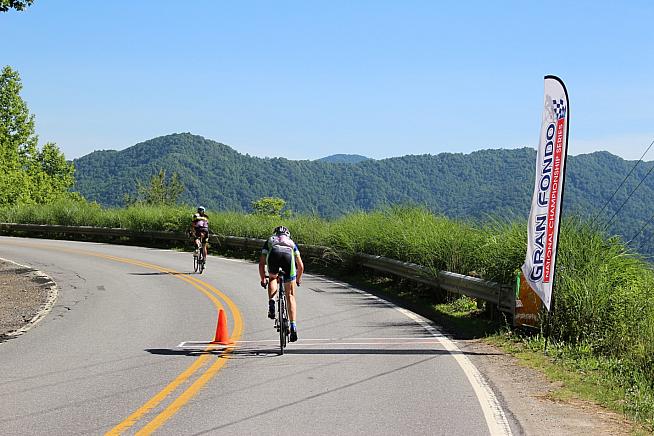 The bombproof race strategy in this region:   Ride Glenn's wheel.  To ask Glenn to give up precious training time to lie under my truck was absurd. I am a racing baby, just a few years in and way too old to ever amount to much.  Enough was enough. A wise person would admit defeat and stay home.
Besides, I was out a truck.
"Rent one," Glenn said.  "Go."
When the master speaks, I listen.
Glenn, my friend, I owe you big time.
Asheville, North Carolina is a place people overthrow their lives for.  To get there, you drive your rental sedan for hours and hours of flat coastal plain miles until you rise up out of the strip malls and fast food joints and into endless mountains. By the time you stretch yourself out of the car, you're breathing different air and thinking big thoughts.  It's the kind of place that makes you want to do your best because in Asheville, the whole point of doing anything is to have a grand time trying.  Asheville is perfect for one of Reuben Kline's Gran Fondo National Championship Series (GFNCS) events.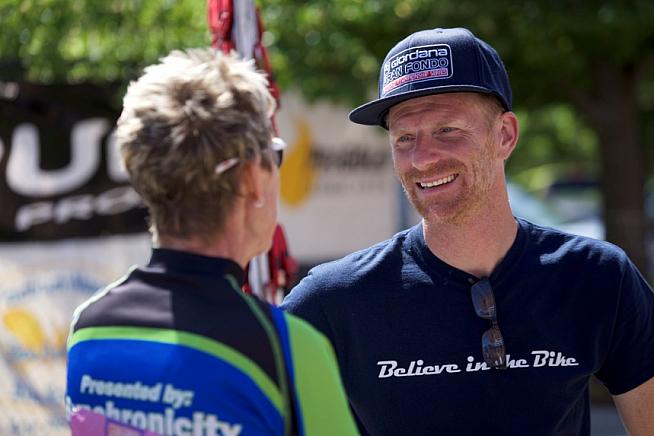 Reuben is someone who naturally thinks grand thoughts and gets people to believe in his ideas by working hard to make them happen.  He is a former pro mountain bike racer who appreciates the communal nature of cycling and what the sport does to bring people together.
So, he took the timed race sections of mountain bike racing and combined that with the social elements of a century and came up with his series, which has events all over the country, and a few elsewhere in the world.  They are all structured the same, regardless of location.  There's a choice of overall distance, usually about 100, a metric, and a 30ish. Interspersed within each overall distance are flagged segments, which are timed.  Get to the flag, give it all you got. Hit the next flag, recover, then enjoy yourself with other riders until you see the next timed segment flag flapping.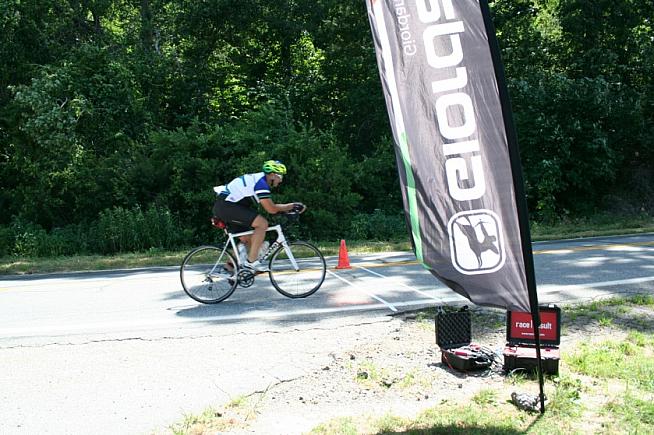 A 100 mile distance might have four or five 3-8 mile segments, depending on the terrain.  Add the segment times together for the lowest total, and you might have a win, or your personal best for the course, or something to aim for next year but always, always, a damn good time.
Asheville 2016 was no exception.  Even before my Garmin beeped on, I was having fun.  The GFNCS events are extremely well organized and staffed by oodles of cheery well-trained volunteers from whatever local organization the ride is benefiting, in this case the Friends of the Smokies.
It was painless to park, pick up my number, timing chip and bag of swag, despite the crowd of about 250. Though only a few years old, GFNCS events are generating a serious following, and some people are regulars.  This year, I'm stealing my friend Ward's idea and am trying to do all the events.  I've already failed, missing the New Jersey Highlands, but hey, I'm no quitter. (Read a report of GFNCS Highlands 2015.)
Familiar faces are starting to become friends, and I even get a number of hugs as I thread my way into the front of the 250 or so riders gathering under the giant inflatable GFNCS start/finish. A local artist sings the Star Spangled banner, and then there's the Race Director speech.

I hate a pre-race speech.  I'm warmed up, amped up, and ready to go, and the last thing I want is a pile of words between me and clipping in.  But I love Reuben's speech, which makes me want to be the kind of smart, safe extraordinary creature roadside mortals applaud rather than aim at.  Between his good organization and the heart in his words, it's evident Reuben is pure gold.  "Believe in the bike," he says, and we are off.
The front of the pack holds a moderate 22 or so mph as we warm up and get used to riding with each other. We're a mixture of ages and proclivities: racer boys, masters, guys wearing Assault This and Conquer That jerseys, and even a number of women. The course markings are plentiful, and thanks to the handy mileage/elevation profile we've been given, we know where in this beautiful farmland the first timed section awaits.  The pace picks up a half mile before, and when we see the flag, it's game on.  We're on each other's wheels, we're breaking away, we're climbing and it's every rider pushing hard.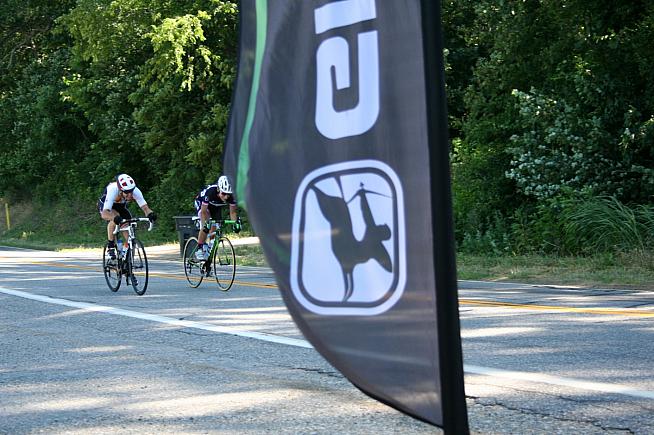 In spite of myself and the unsophisticated nature of my competitive spirit (ride as hard as possible all times), I'm starting to figure these GFNCS things out.   The first one I did, a year ago Boone, I was out in front, and when we hit the first flag and everyone took off, I discovered to my great surprise that gran fondo was not just a fancy term for ride with food.  Now it's a year later, this girl has seen a few flags.  The art of bike racing, no matter what the form, is to figure out how much energy to spend when and I'm trying to be smart about this one.  I'm rationing, and I'm also trying to kick up a sprint at the end of each section.  I'm no Marianne Vos, but knowing I've saved enough but not too much on this one is a victory, and I'm happy with Section One.
My other goal is to unleash my inner Maria in these beautiful mountains.  There are so many leafy passages, so many wildflowers, so much color and light to absorb as the sun brightens and the rolling route opens up. A stone bridge takes us over a wide meander of the French Broad River into the little brick town of Marshall.  A wall of mountains rises up from Marshall's back doors.  The whole set up looks a bit like the south of France, where I'd been riding a month before. Ward and I pick out a storefront in which to locate a future bike shop/jazz club while we tank up on the cyclist-savvy goodies provided by the GFNCS.  Any riders I don't know Ward does, and when I leave the rest stop, it's with a whole bunch of new friends.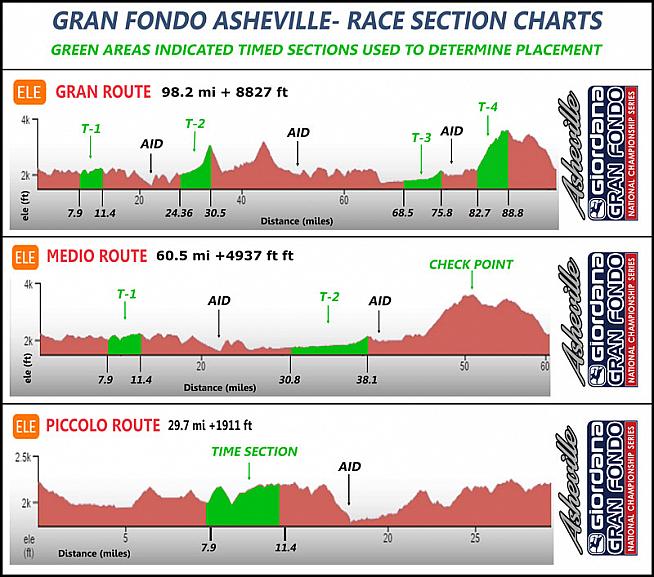 The second timed section is a bona fide 1000 foot climb, and then the pedaling settles into the rhythm of the day.  Eighty degrees with no humidity.  Flawless roads.  Minimal traffic. Hillsides tumble green, sometimes with a barn or a home in the valley below, or when we're lucky, a shimmering horse just as happy to be out in the beauty as we are.  One of the best things about cycling is seeing the possibilities of living, and Asheville people have figured it out.  They're outside, they're planting things, and often they give us a thumbs-up.
By Timed Section 3, we're a tribe.  A young lion named Mark gracefully whips about ten of us into a pretty zippy pace line, since Section 3 is a flat run along the French Broad, there's headwind, and well, we've been through a bunch of miles together so we might as well.  I do my share and hang in there until the 2K-to-go sign, when those who can transcend 30mph do so and the rest of us give it our best. When we roll into the next rest stop on the shady river bank, we are flushed, thrilled, and brandishing awesome times for the section.  Now we really have something to talk about as we fill bottles, down pickle juice and share Cokes.  Elk Mountain is next, 1600 feet of fearsome.  As each one of us rolls out, we wish each other luck, and we really mean it.
As I climb, I'm thinking about how accurate the description of the climb I'd been given by my fellow racers.  I'm also thinking it's not as hard as the climbs in May's GFNCS Georgia event, which followed the Tour de Georgia route used for training by George and Lance and covered 9800 feet of climbing in 108 miles.  And as I'm thinking about saving some for the last notorious steep section, there's a flag, and hell, I have plenty for a sprint.  And then it's all downhill, miles of glorious descending along the Blue Ridge Parkway, swooping right and left through paradise down into the beautiful city of Asheville.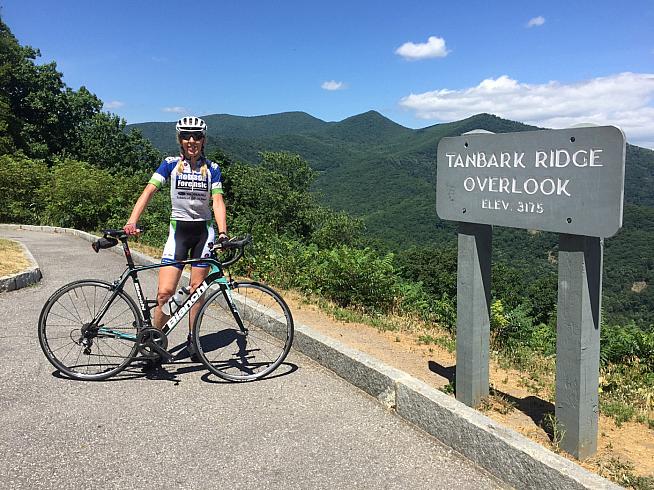 Many of the GFNCS events start and finish at a local brew pub, and Asheville's is Twisted Laurel.  Someone from the bell ringing crowd that cheered me over the finish line hands me a wooden chip good for a beer and a meal ticket. This time it's an IPA with all you can eat spaghetti, baked ziti, salad, and garlic bread.  We stand around in the street outside with our overburdened plates while the results come in and winners help each other up onto the podium.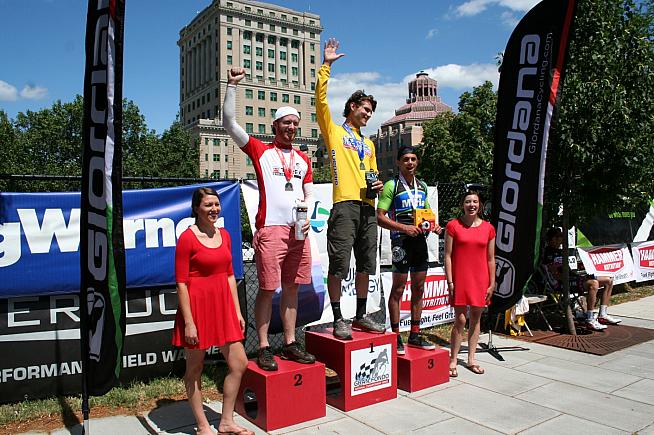 There are pictures, award money, Giordano kits for age category winners, and truly great prizes.  I'm second in my category, fourth overall, and come away with a trophy, kisses on the cheek from the podium girls, awesome REI sunglasses and a pair of super nice Swiftwick socks. Everybody gets a medal, and everyone gets a raffle ticket.
The raffle is worth sticking around for, since there is a trip to Italy, a bike frame, all sorts of equipment worth having, and even an electronic trainer I'm sure I'm going to win.  When someone else's number is called, I'm having so much time goofing around, I don't even care.  After all, the breweries of Asheville await.
I text Glenn and ask if he likes IPA.  I'm bringing him a six, but the best thing I could do is get him up here to Asheville next year.  I want to see how he approaches a bunch of time trials within a hundred miles.  And afterwards, for sure, I'm buying.
1 Comments