By Karen Fuchs
Standing at the start line I could feel the usual nerves before a race kick in, that knot in your stomach not knowing how your body will feel that day, how the field will be, and what surprises the course may bring ...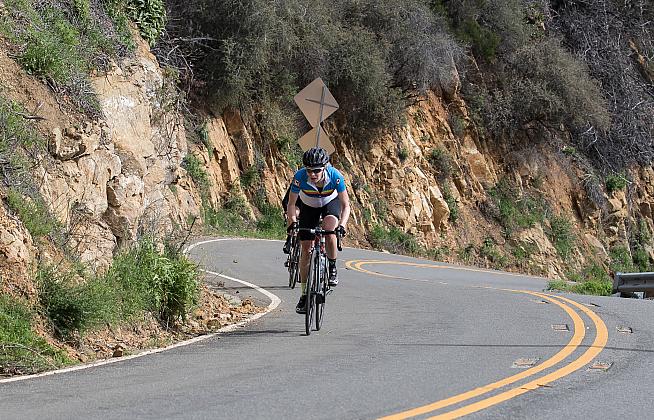 On top of that I found myself lined up alone. Six days earlier on my arrival in California I had contacted two friends to see if we could connect for a ride. "Sure, why don't you come and do the Malibu Granfondo with us" - umh, because I live on the East Coast, where we have an off season called winter, and didn't think I was quite up to riding 100 miles already with likely a significant climb in the Santa Monica Mountains.
"You'll be fine, just come and do it, I'll stay with you," Kim convinced me, and being a (somewhat) competitive person, with sometimes more bravado than sense I chose to go ahead.
With only one problem - the event was sold out already!
Looking at the sponsor list I saw KASK as one of the sponsors to differentiate ride leaders from others in the peloton, as well as being one of my clients, I decided to ask if they had a slot left - within a couple of hours I was signed up as KASK's "sole representative" (their words!) for the ride. Talk about no pressure here... no turning back now!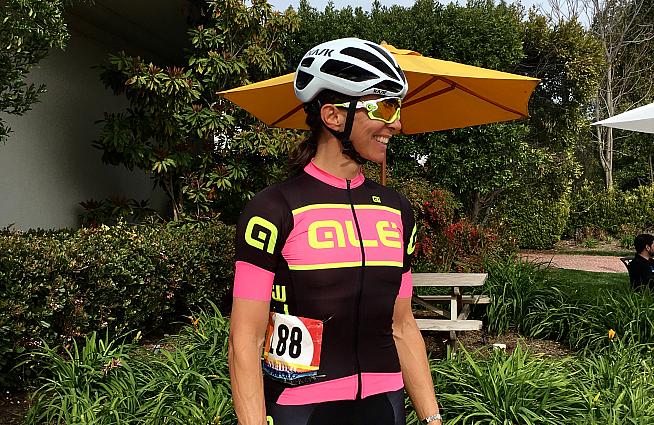 So here I was at the start line, untrained for this kind of event early in the season - and without either friend by my side to pace me, stay with me!
One had had a work emergency, and Kim texted me five minutes before the start to say she had overslept and would try and find a way to meet me. But given the overall friendly atmosphere and comraderie I decided to just ride my pace and enjoy the day.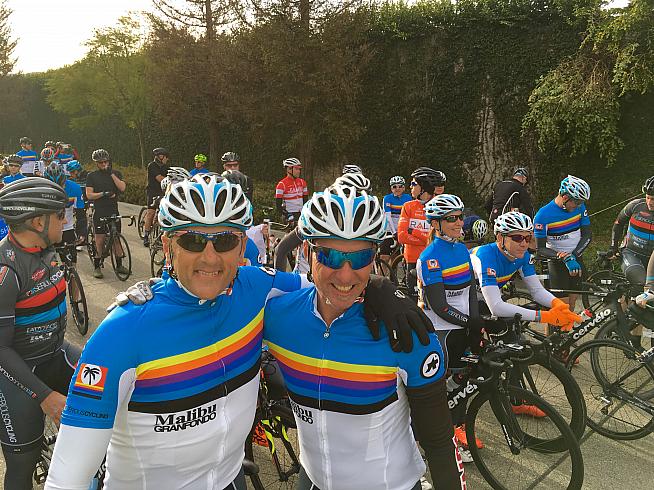 Off we went through rolling hills on quiet country lanes past lakes and into beautiful farmland and citrus groves - the gorgeous scenery allowed me to relax into my riding.
I quickly connected with two other female riders, who invited me to paceline with them, when I suddenly noticed a car go by with a bike on the back, unmistakably Kim's, a silver and green Divo I would have recognized anywhere.
Ten minutes later she was finally by my side, and told me how she had arrived at the start, told the race director her story, and that she had PROMISED to ride with me. To cut a long story short, the race director's husband offered to drive her along the course, find me, and drop her off ahead of me so we could finish the race together.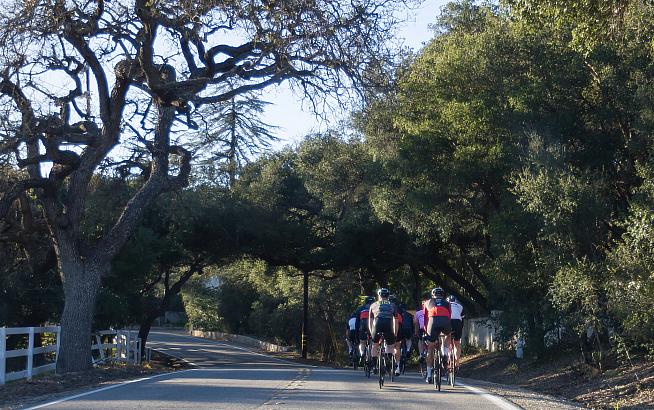 I'm telling this because it goes a long way towards explaining the amazing organization of the event and willingness to be helpful in any way to make this an unforgettable experience!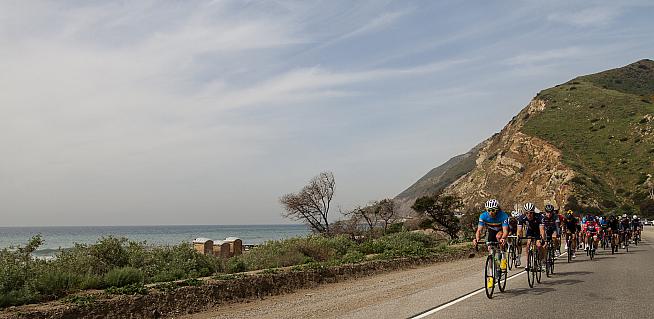 With now four strong women taking pulls at the front, our group quickly grew by a strong set of Canadian riders (who I think mostly enjoyed the view, and only occasionally helped out taking a pull...), developing a good pace along Pacific Coast Highway, which in my eyes is one of the most scenic roads to ride with its sweeping views of the Pacific, but on this particular day presented a big challenge with strong headwinds!
Thankfully, the excitement of race day had long kicked in, the scenery did its part to elevate my mood, and the fantastic rest stops kept me fueled and hydrated. I have to say these were probably the best rest stops I've encountered - outside of Italy, but that's another story.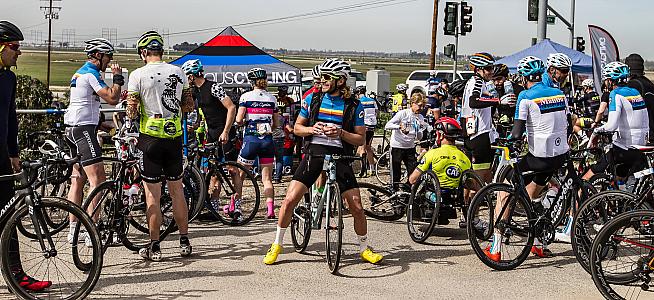 Volunteers coming up to you refilling your bottles rather than having to jostle for a position around the cooler to refill yourself, real food and energy bars, and to my ultimate delight (when I had already pushed myself beyond anything I had expected of myself that day) before our last leg up the final timed big climb into Latigo Canyon, homemade rice balls with peanut butter and jelly and a bonafide coffee truck!
After a double Espresso I was ready again to tackle Latigo, enjoying the quietness of the road with some breathtaking views of the Pacific going up - wish I'd have had the time to stop and take pictures!

Once at the top the last few miles through quiet back country rolling roads to the finish at the Four Seasons Hotel In Westlake, which was hosting the event for the second time out of its four year existence, were a breeze!
I hopped off my bike beaming from ear to ear about having completed a strong ride this early on in the season! I handed my bike off to one of the volunteers at the bike wash - yes, you read that right, complimentary bike wash by WD40 at the end of the ride! - and made my way to the fantastic diverse lunch buffet catered by the Four Seasons, with live music and beer, before a complimentary session in compression boots followed by a massage!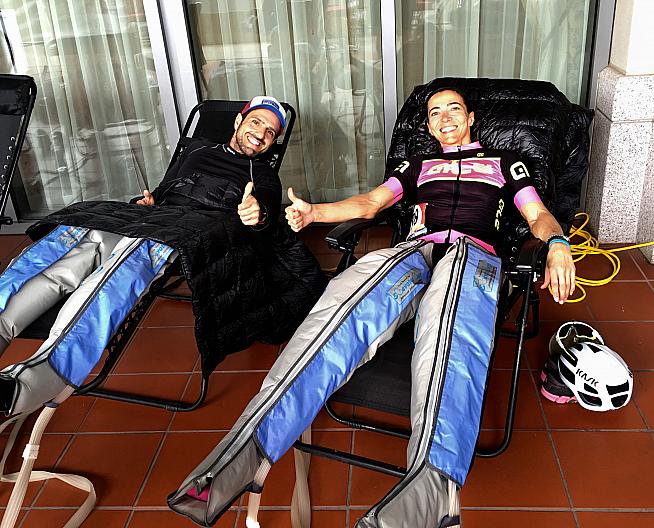 The organizers, Serious Cycling, are experienced cyclists (unlike some full-time event producers), who truly designed this event to expose their beautiful area and further their mission "to grow the love of cycling".
Community is at the heart and soul of this event, and it clearly shows! With a pre GF cocktail party the night before, the GF itself, including lunch and all the other amenities I listed, followed by another cocktail party at the Four Seasons on the day itself, and a choice of either time trial or social recovery ride with brunch the following day is simply an unbeatable package that I will do everything to sign up for again!
I think a big part of the success of this event lies in its relatively small numbers, with only 250 spots up for official registration (plus some sponsor allocated riders). This really allows Serious Cycling to create such a "bespoke" cycling event that now attracts about a third of its field from out of State as well as some international entries. In addition this year they chose to support CAF - the Challenged Athlete Foundation. I wish I had the space to go into this, but let's just say one of the riders who participated in the event on a recumbent bike gave one of the most inspiring speeches at the event after the ride, that will stay with me for a long time.
Overall, this was by far the best race experience I've had in the US - if I could ask for any improvement, it would only be one minor detail, results split into male/female and age group (here goes that competitiveness again...). Otherwise I cannot wait for another turn at it next year, and this time I'll be ready for it!!
Karen Fuchs is an award winning international photographer, passionate about all things cycling and brand ambassador for Ale Bikewear. Her cycling adventures can be found on Instagram @karenfuchsphoto
0 Comments