The American Wild West is legendary. Rough. Tough. Physically challenging beyond belief. A brutal land where the strong suffer and survive, while the weak suffer and don't want to survive.
There's no better place out West than Tucson to figure out if you're one of the strong, or one of the weak, than at the iconic Fair Wheel Bikes Tuesday Group Ride, or as the locals call it - The Tuesday.
Although its cousin, The Saturday Shoot Out, gets all the attention, ask any local and they'll say The Tuesday is more competitive and faster. What it lacks in length, it makes up in intensity.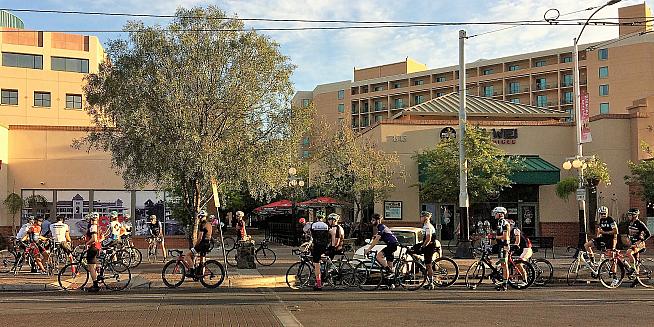 This ride has a little of everything: flats, rollers, and a short killer climb over the back side of Gates Pass.  It's open to anybody and everybody willing to show up at the crack of dawn for a balls-out style ride. If you're a type-A competitive rider who hates paying race fees, this ride is perfect. Just plan to go hard or go home.
RIDE: The Tuesday
LOCATION: Tucson, Arizona, USA
WHEN: Tuesday at sunrise
DISTANCE: 35 miles, ~2 hours
DIFFICULTY: Hard n' Fast
START: University & Euclid
RIDERS: 50 Pros, wannabe Pros and assorted aging velo deadbeats
CHIEF CAT HERDER: Ralph Phillips - fairwheelbikes.com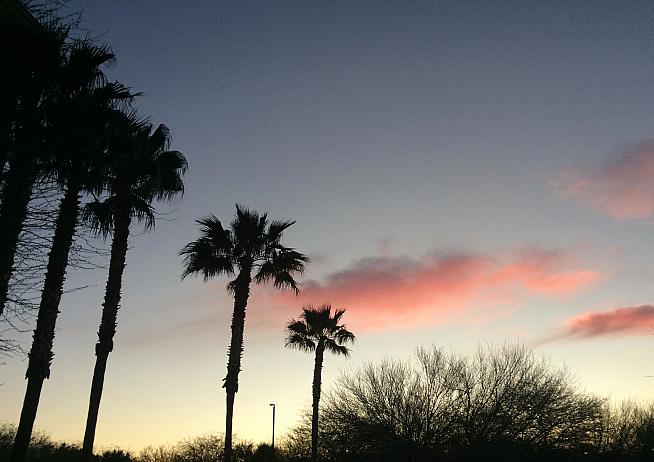 - This one leaves on time, every time. They don't take roll call or wait. Riders arrive like bees to honey. They come from all walks of life - butcher, baker, beermaker, professor, doctor and Pro Tour sponsor.
- Relax. You won't get dropped from the get-go. There's a 30-minute warm-up segment. It's a 2 x 2 paceline with time to socialize and ask "Where's a good brewpub?". Venture up front and you'll find the ride's founder, Ralph Phillips of Fair Wheel Bikes, leading the procession.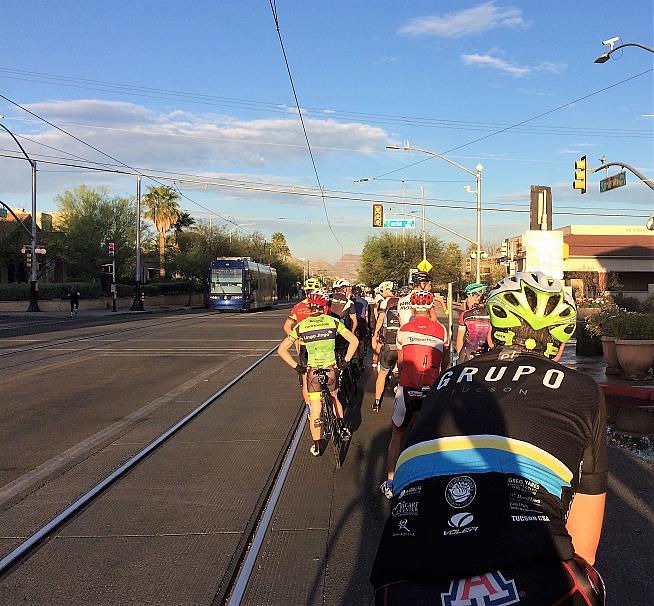 - Turn right onto Highway 86 and it's time for 20 miles of on-the-rivet race madness, minus the podium. The first challenge is to make it up the initial gradual climb. With a SSW wind stay as far forward and to the right as you can to catch a draft. Keep your eyes peeled for Arizona road debris - cactus, cracks, rocks, snakes and mufflers.
- Get up front before turning on Kinney Road, it's a high speed 90-degree criterium style turn sure to string the pack out single file with gaps. Bucket Tip: Keep chasing if you're off the back, there's a stoplight a mile up the road that can help you latch back on.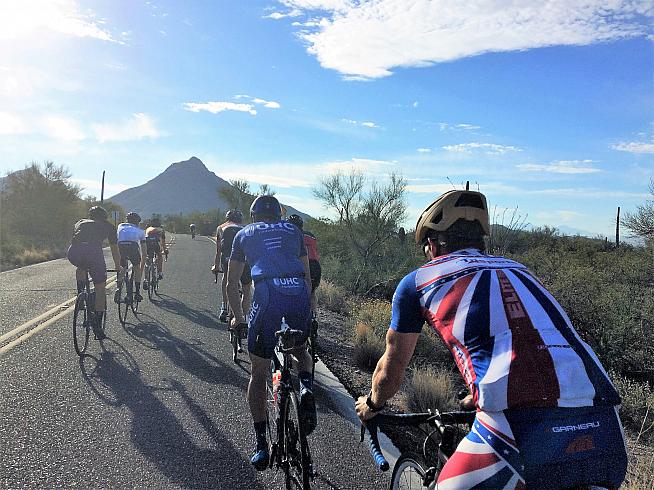 - The next few miles are the easiest on the route, but the peloton won't go easy. Not a chance. After passing the Old Tucson Movie Studio turn left onto McCain Loop. Enjoy a nice downhill before the Pros put you in the hurt locker on a rolling climb up to the Arizona-Sonora Desert Museum.
- On the climb dig as deep as you dare, it's followed by a 2.5-mile descent through beautiful desert where you can recover (or not) before Gates Pass.
- You're almost at the end - of your rope by now. Gates Pass will finish you off and leave you twisting in the wind. It's a 2.7 mile climb with the last bit at 12%. Attacks start at the bottom and won't stop till the top. As you suffer like a dog on the lower slopes don't look up to the left, it will only demoralize to see the steep road snaking up to the top.
- After much suffering you'll reach the summit, turn left into the parking lot and rest as the pack re-groups, but try not to fall over exhausted. The hard-core part of the ride is now over, time to enjoy a nice friendly downhill roll back to the start.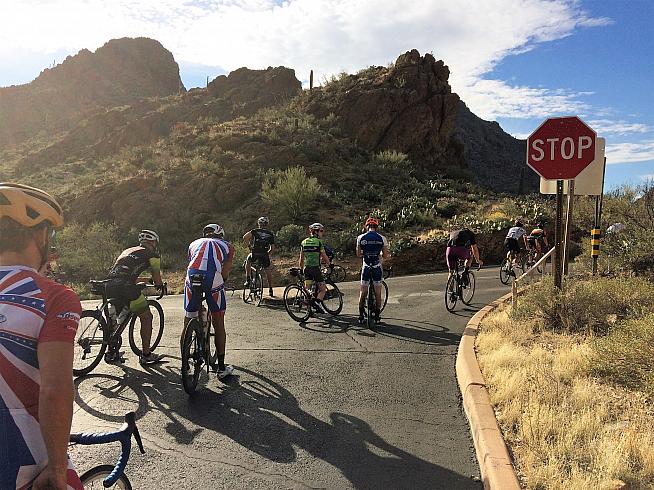 With any luck, you've got what it takes to suffer and survive The Tuesday, one of the most intense group rides in the West. I barely did via decades of experience and a lot of wheel sucking. It was the hardest ride I've done in a long time... and definitely bucket list worthy.
Cheers and most of all enjoy the ride. What's on your bucket list?
John is a former faux pro rider enjoying life as a journalist in search of great bucket rides to keep him in shape and out of trouble - well, at least in shape. 
He writes about his Bucket Rides in all their variety and glory for Granfondo.com. See his other pieces here.
0 Comments