By Uli Fluhme
Hitting a rear derailleur with your front wheel makes a nasty sound. It's been many years since I've had to suffer through such an occurrence but it's a sound that's impossible to forget. Ten miles into the inaugural GFNY Uruguay, it happens to me again.
I desperately try to stay upright while leaning into the rider ahead for what seems to be an eternity while it's probably only a couple of seconds. I use all of my 25 years of racing skills to stay upright. We're going at upwards of 50km/h, supported by a strong tailwind. Crashing is always bad but doing so at such a speed and surrounded by other riders is even worse.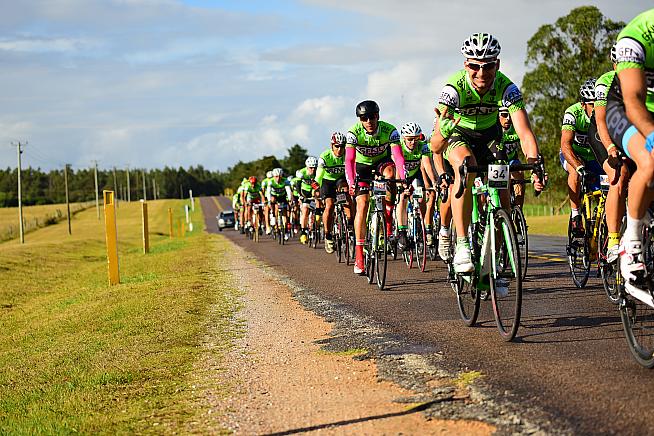 Punta del Este
To most people outside South America, Uruguay is somewhat of an unknown. Some might even have trouble finding it on a map. Argentinians and Brazilians, however, think of Punta del Este when they hear Uruguay. Punta is one of South America's most glamorous resort getaways. Its many beaches, elegant seaside homes, yacht harbor, high-rise apartment buildings, luxury hotels and glitzy restaurants attract many visitors, especially between Christmas and Carnival for a summer vacation.
Best time to visit Punta is towards the end of the southern hemisphere summer - think March - when life gets more quiet while the weather is at its best with daytime temperatures in the 80s F (upper 20s C). And while Uruguay may seem an unlikely place for cycling, the sport's popularity has grown tremendously in recent years. It's also noteworthy that the 10-day Vuelta Uruguay elite race is in its 73rd year already, which shows Spain's and Italy's cultural influence.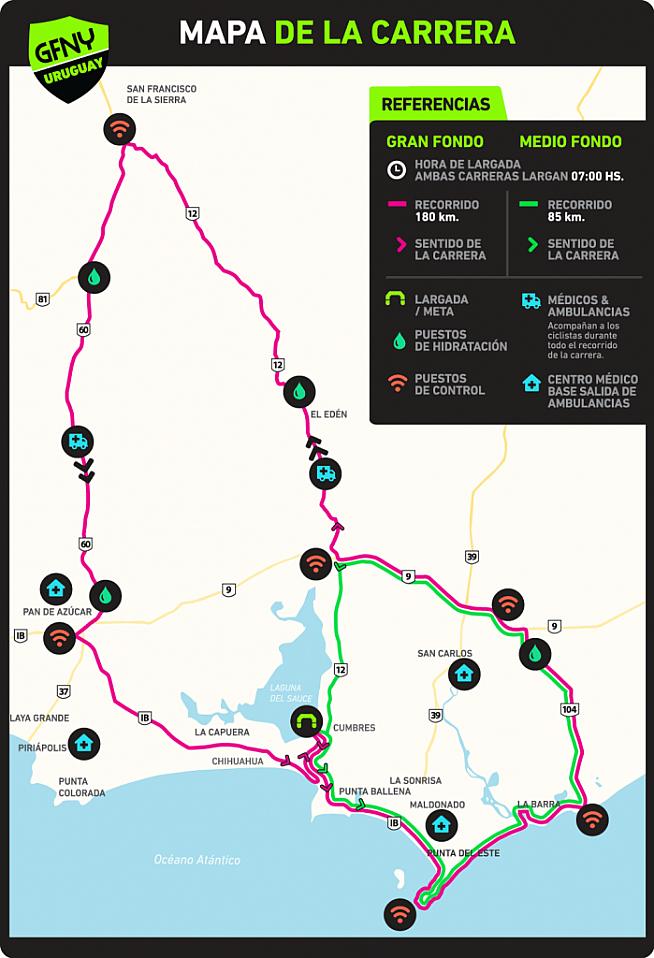 Punta can be easily reached by flying either to the city's own airport - via connections to hubs such as Buenos Aires or Sao Paolo - or to Uruguay's capital, Montevideo, which is only a 90-minute drive away from downtown Punta.
The Course
GFNY Uruguay offers a long and a medium distance. The latter is a non-competitive ride of 80km / 50 miles with 900m / 2,950 feet of climbing. It's ideal if you don't feel ready to tackle the 180km / 112 mile long course with 2,000m / 6,560 feet of climbing. While Uruguay does not have any mountains worth talking about, the long course is all but flat or easy. Wind is always present and of course mostly comes in the cross- or headwind variety. Add to that a relentless up and down during the core miles of the course and you have a proper challenge. It's arguably harder than GFNY in New York.
Back to the Race
A solid combination of skills and good old luck kept me upright. I took the brunt of the shouts of riders around me who are rightfully angry with me. Riding on the left side of the road, I had glanced back to the left to see what's left of the peloton after the frantic pace of the previous couple of miles. Doing so, I swerved a bit to the left where, at the same moment, a rider was passing me. That's exactly why you should put your hand on a fellow rider's shoulder in order to keep going straight when turning around.
My front wheel got quite a bit wobbly from the impact, which is not what you want when you have 160km of racing to go. That said, after I opened the brake a bit, the wheel was running through the brake. Don't be a wimp and deal with it, I told myself.
The incident occurred just after we had rounded the Peninsula of Punta. We continued on the coastal road with a massive tailwind that spurred the enthusiasm of many to attack. One strong rider actually managed to escape. We heard this guy was able to extend his lead to a whopping six minutes by 70km.
Once we hit the coastal village of Manantiales, the course turns inland and starts to get hilly. Initially, the wind coming from the sea pushed us onwards. While the gap to the lead rider ever increased, everyone started to gear up for the main hills that were starting at 70km.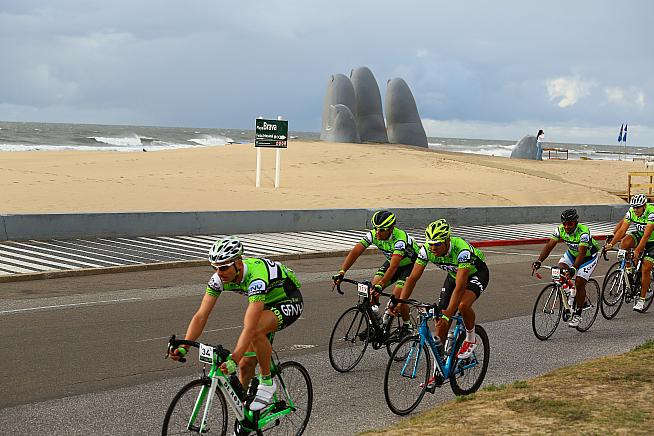 The tiny village of Eden - Population: 84 according to the road sign - is where the race got real. I don't have a punch like other guys but am more of what the Italians call a passista, someone good at riding a steady pace, so I took the lead into the first of a series of short climbs. But soon enough all hell broke loose and the peloton splintered. We were going all out. Ahead, a group of five forms and I fight to stay in touch with six riders just behind that. I dug deep and closed the gap. We were working together over the next rollers to rejoin the lead group.
After we left Eden, a paradise to anyone seeking a truly tranquil place to live, we crawled back to the leaders. With more nasty climbs coming up, I knew it would be short-lived. When we reach the base of the steepest hill of the race, I dropped out of the group and paced myself over the crest, recovering on the descent. I regrouped with six others but the distance to the five leaders was growing and I knew the race for the win was slowly drifting out of our sight.
With 80km still to go, working together was key to keeping the remaining riders at a distance. We reached the highest point of the area, visible from afar due to its tall antenna. A great crowd of locals came out to cheers us on as if we'd be racing up Alpe d'Huez during the Tour. When we hit a torrential downpour shortly thereafter, we lost the two younger guys of the group. I can't help but think that a race like GFNY Uruguay needs resilience that more mature riders are more likely to have. We were close to four hours into the race, the nasty crosswind was howling and the rain flooded the bumpy country road. The rain kept the temperatures in check but it never got so cold that I needed the vest that I carried with me.
Just before we reach the highway, with 25km to go, the course crosses the small town of Pan de Azucar. After spending several hours on the vast and wind-swept countryside, we felt like warriors coming home from battle. People were lining the roads and kids were screaming excitedly. Police cars, motos and cars of the organization were ever-present around us throughout the whole course to ensure a safe and supported ride. Yes, Be a Pro for a Day!
On the highway, we finally had a well-earned tailwind. The four of us rotated quickly, rarely leaving the 53/12, while one rider just sat in the back claiming to be too spent to work. With three kilometers to go, the course turns off the highway and back to where we started, at the beautiful Laguna del Sauce.
Uli Fluhme is CEO of GFNY World. He and Lidia Fluhme created and run Gran Fondo New York.
Read ride reports:
0 Comments