By Luke Elrath
Pat Engleman is the Lu Lacka Wyco Hundo, and his name should be the beginning and ending of any write up regarding this event.
He and his team of friendly, helpful, infinitely generous volunteers make this ride truly unique for the participants who were lucky enough to score a spot on the one day that registration was open.
Covering 100 miles of paved and gravel roads through Luzerne, Lackawanna and Wyoming Counties in northeastern Pennsylvania, LLWH tests the rider and their equipment with fast and loose descents, sharp rocks, brutal climbs, and long stretches of rolling pavement to connect it all. My GPS data has the elevation gain at around 9100', and two days after I feel I've earned every inch of it.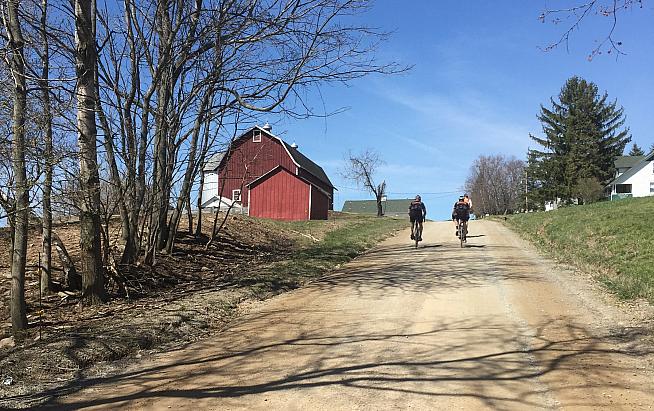 This is the second year I've come out for the ride. I heard murmurs of the first year from the Lone Wolf Cycling crew, who together with a handful of diehard adventurers got suckered into coming north from the Philadelphia region to take a tour of Pat's local roads. The way they described it split the difference between transcendent dream ride and bitter death march. I was intrigued but when the second year's ride came around I missed again.
Last year I had the fitness, motivation, and what I thought was just the right mount for taking on the challenge. I've slowly transformed my Gary Fisher Presidio from a steel-framed cyclocross bike into an adventure-ready (if a little heavy) all-conditions bike. I took off the carbon fork, and Simon Firth of Hanford Cycles built a lugged steel replacement with plenty of clearance and braze-ons in all the right spots. I laced a pair of wheels with wider rims that take Bruce Gordon Rock and Road 43mm tires. They are wider than many used at LLWH, but for all day comfort and potholed, rocky, 40 mph downhills I can't think of anything I'd rather have under me.
(media6=2=pos1}Who would have thought that the 4th annual LLWH would sell out in 24 hours? Not me, for sure. I slept on registration and thought I had missed it for sure. I got on the wait list and hoped for the best. Pat sent me notice that I was moved to the active riders just 10 days out. Thankfully I had ridden the Hell of Hunterdon the past weekend and was feeling fit. A quick look at the forecast told me the weather was going to be great: 70 degrees on Sunday, with warm days before and after. Without other plans for lodging I decided I'd ride my motorcycle up Saturday afternoon, camp at Francis Slocum State Park and be a short 15 minutes from the start in the morning.
When I did arrive Sunday morning I was greeted with short, organized registrations lines and several boxes of donuts within arm's reach. Pat and his crew kept everything tight; there was plenty of space to park, gear up, make a last bathroom stop and then gather for the ride instructions. With a strong voice Pat reminded everyone it was not a race, obey the rules of the road, watch for route signs to keep on course, stay safe, and have fun. That's exactly the reason why I love events like this.
The local police escorted us through town to the first singletrack section. It was a great way to self-seed; the fastest riders filtered to the front (and I imagine stayed there all day) and just before we got to the trail there was a friendly guitar-playing resident along the course with two small children cheering us on. It was the first of many positive interactions with the locals along the route, by and large they made us feel welcome on their beautiful country roads.
What can I say about those roads that pictures cannot? They roll, they climb, they dive, and it looked like they flatted a lot or tires throughout the day. Views of the mountains were provided stretching off to the horizon. Local flora and fauna were everywhere. This time of year the trees were just starting to sprout leaves that provided some shade as the day got hotter. The unimproved roads were in pretty good shape all things considered, but I did get into some serious potholes as I scorched down some of the faster gravel descents. Given my bike setup I was in good shape, rolling over, around or through dips, washboard sections and spots of loose gravel that could sneak up on you if you weren't vigilant.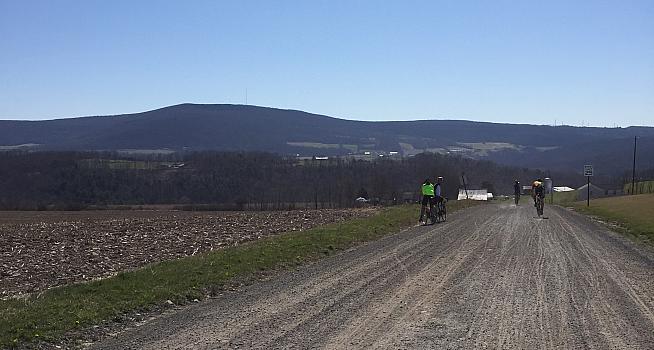 The weather was beautiful, and as the temperature rose I was happy to take a little relief from the well-run rest stops. There was plenty of water, snacks and smiling volunteers at each one. I took advantage of a few moments of shade, filled my bottles and kept my calories up with applesauce, pb&j sandwiches, cookies and assorted bars and gels. The volunteers checked everyone in and made sure all riders were accounted for. I appreciated the safety measures taken by everyone involved in the organization of the day. I also appreciated a small beer and half of a hot dog at the 'Road Sux, Have Beer' tent. The climb to it was brutal, the climb went on after it, but the costumed supporters under the tent kept spirits high and were ready to offer a push for those setting off again.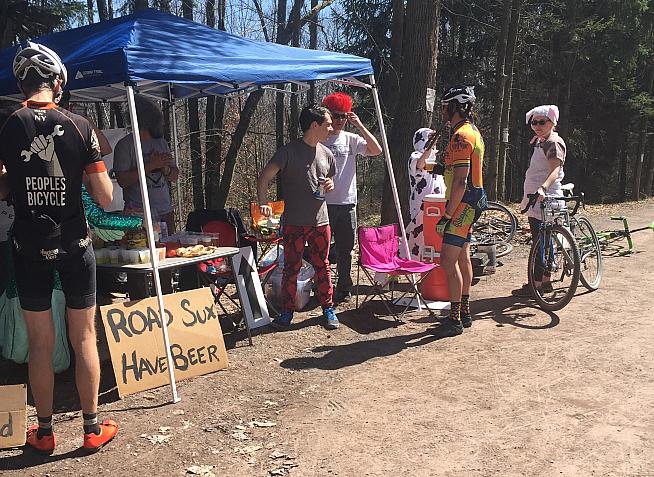 More barns, more farm fields, more beautiful views, more rolling gravel roads, more climbing and more descending.
The last section of the route takes riders on a mixed-use path above the highway, along a railroad bed, and along a reservoir dike. Flatter, yes, but there was still a ton of work to do to fight the wind and wring out the last drops of effort that brought us back to the fire hall. Food was plentiful, smiles were everywhere (aside from a few shattered riders' blank stares), and the raffle table was laid out for review. I dropped in my tickets but didn't get lucky this year. Still, it was a great in to an amazing event. My wish for the future is to come back for the annual ride, leave a bit of myself out there each time, and spend the day with fellow lovers of the LLWH.
The person who will no doubt be at the center of making all that happen is the one and only Pat Engleman. Sincere thanks to you for everything you and your team does to make this ride a legend.
Luke Elrath survived several years in the bicycle industry as a bicycle product manager. The experience allowed him to ride a wide variety of bikes in many exotic locations, including Taiwan, Switzerland, Australia. Road, cyclocross, mountain or track, he is equally mediocre regardless of the discipline. Since leaving the bike business he has made a few custom frames, turned a few wrenches, and gotten interested in randonneur events. He works as a forensic investigator and bicycle expert witness, spending as much time in the saddle as he can.
0 Comments