Black thunderheads roll down mountains as tall pines sway and hail pelts the windshield in Angel Fire, NM.  At close to 9000' with mountains rising in every direction it's home of the Rough Riders 200 two-day road event.  It's June, but it feels like February.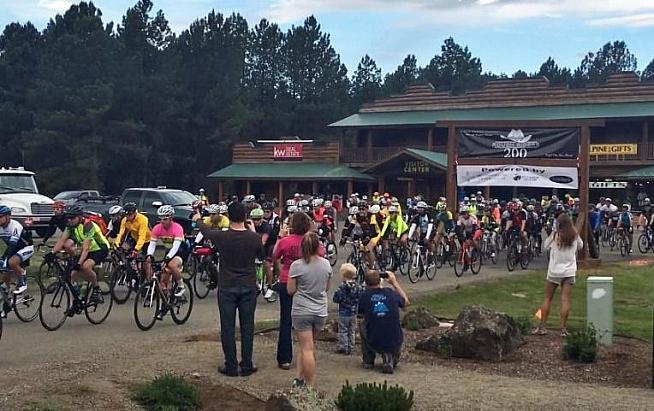 Hail turns to rain as I stop to fill the tank.
"Monsoon season," says the lady pumping gas next to me.
"What's that?" I ask as my fingers turn blue.
"Rain and hail every day."
Damn, the car is overflowing with every cycling thing imaginable - except a rain jacket.
Staring at my bike on the roof she asks, "Are you racing?"
"If I find a jacket."
"Try Angel's Attic, it's our local charity thrift store."
Everything is XL, XXL or XXXL in cowboy denim at Angel's Attic.  Checking kids ski clothing, I luck out, finding a lightweight nylon jacket.  For $3 it's a potential life saver.
Saturday morning riders stage in Frontier Plaza to start the southern loop.  It's 104 miles with 6240' of climbing from Angel Fire to Taos to Sipapu to Mora and back to Angel Fire.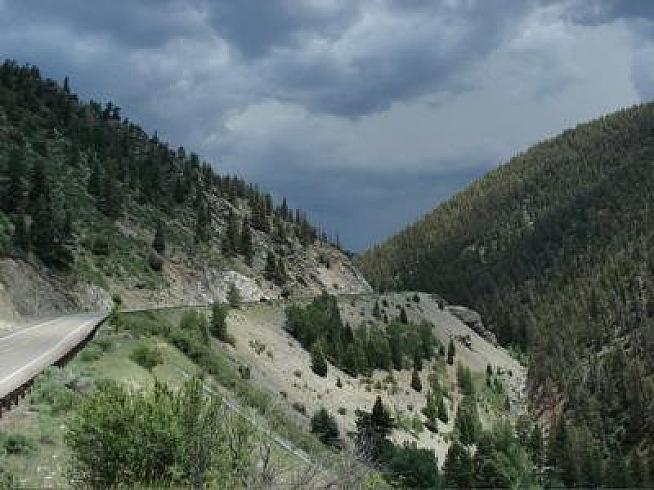 Straight out of the blocks we hit the first climb - Palo Flechado Pass.  With a KOM jersey available riders quickly move up for an epic mini Alpe d'Huez battle.  Imagining I'm 30 years younger I hang with the front group for ½ a pedal stroke, then reality hits me like a 2x4 to the head.  What am I doing?  My AARP card is probably older than these guys.   At the top CX pro and last year's champion Jake Wells stands on the side of the road changing an untimely flat.  Always looking to ride smart and suck wheel before riding hard, I sit up waiting for the rider just behind.  It's Jeff from Texas.  With 100 miles remaining we temper our enthusiasm and work together on the long descent into Taos.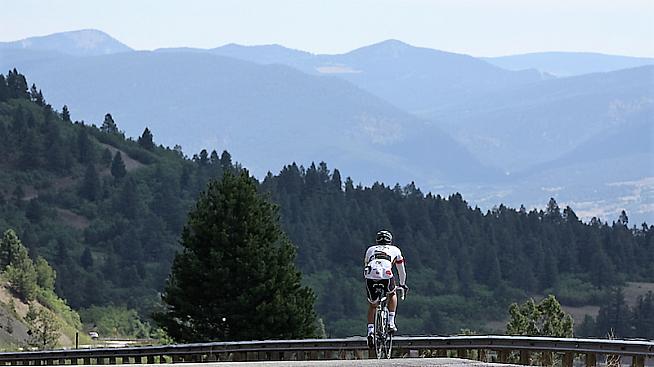 Our route then follows ice cold crystal clear streams into mountains dotted with log cabins and campgrounds.  Mmm...bacon cooking over a morning campfire fills the air with goodness.  It's an outdoorsman's paradise.  At the base of Sipapu Ski Resort volunteers offer bottle hand-ups with gel packets attached.  In what is surely a cruel joke, yards of shipping tape hold each gel in place.  Without scissors, machetes or Vice Grip pliers our only option is to lick the sticky gel off the bottles like dogs.
Next up, and down, is Holman Hill.  It's a 55mph E ticket descent with everything under control, which means we aren't going fast enough.  At 60mph sitting on the top tube like Pee-Wee Herman with lamb chop sideburns, Jake Wells sails past us in search of the leaders.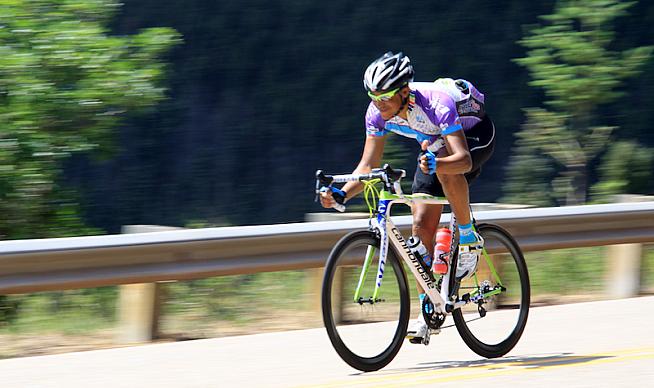 Rolling through the picturesque town of Mora we approach Coyote Creek and the final climb.  It's on a narrow winding road in a shaded alpine canyon with tall rock walls, evergreen trees and a creek inches away.  A staircase climb with each step getting progressively steeper, it tops out at 15%.  The last three steps are nicknamed The Three Sisters, but they are really Three Bitches - relentless, unforgiving and demanding.  Switchbacking or walking up is sometimes the only option.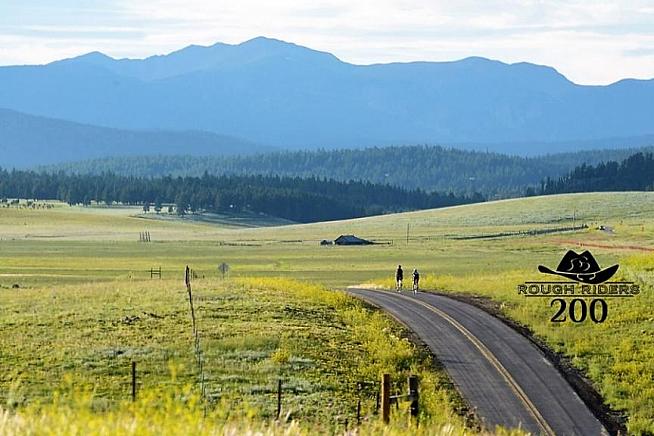 At the top we spy the semi-pointy end of the peloton just up the road while storm clouds chase from behind.  Locking on the riders like a torpedo we catch them with a few miles to go.  So of course we sit in, feign weakness, pretend to cramp and try to out sprint them for the insignificant placings.  Overall, we finish in 5:08, just before the chasing storm hits.   Local New Mexican's Fortunato Ferraro and Kari Distefano not only win the day's KOMs, but also overall victory.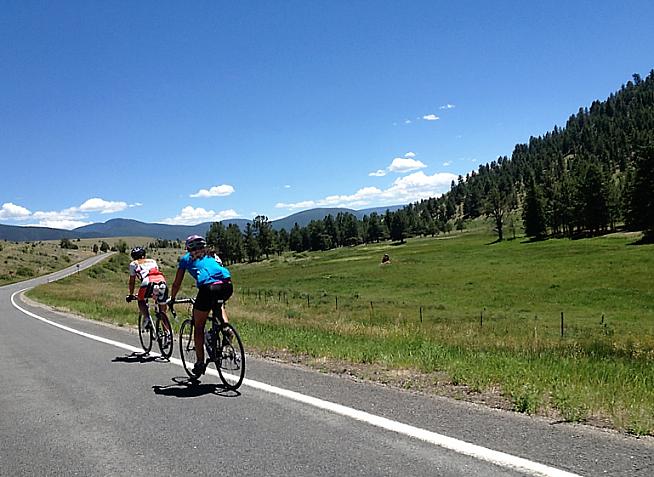 Sunday morning we're up to do it all again - on the northern loop.  80 worn-out, beat up and exhausted riders show up.  The others call it quits, opt for the half-as-rough 50 miler or recover from an evening at Enchanted Circle Brewing.  The route covers 100 miles from Angel Fire to Taos to Arroyo Seco to Red River to Angel Fire with 6030' of climbing.
The ride starts the same as the day before, in other worlds hard enough to taste breakfast a second time while climbing Palo Flechado.  Fortunately, my legs feel pretty good and miraculously I crest the top in the lead group.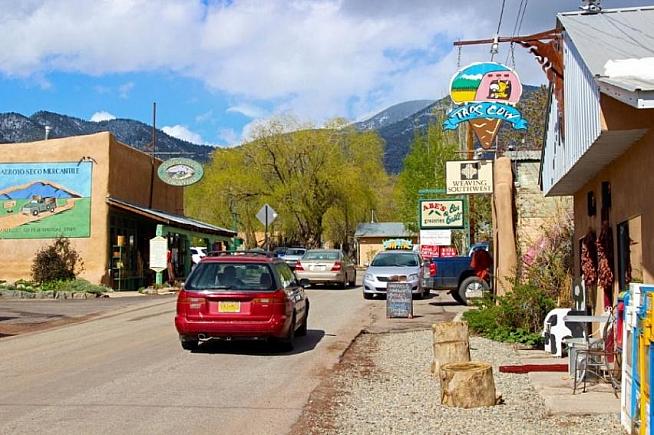 Riding through Taos and the village of Arroyo Seco we pass local pretty woman Julie Roberts' casa while the big cats, Fortunato and Jake, toy with us like mice.  On the highway to Red River they pounce, leaving us for dead as they race towards victory.  With shredded legs and tattered egos, the rest of us struggle together until Bobcat Pass.  It's the crux of the ride and a real leg breaker - 4 miles at 6% topping out at 10,000'.
By the time I crawl over the summit, Fortunato and Jake are already in a different zip code.  The remaining group is shattered - three riders in front of me, three behind.  Old, tired, alone and pushing into a headwind with storms on the horizon things don't look good.  Actually they look awful, really awful, godawful.  Nonetheless, this might be my moment to shine - that's what I keep repeating.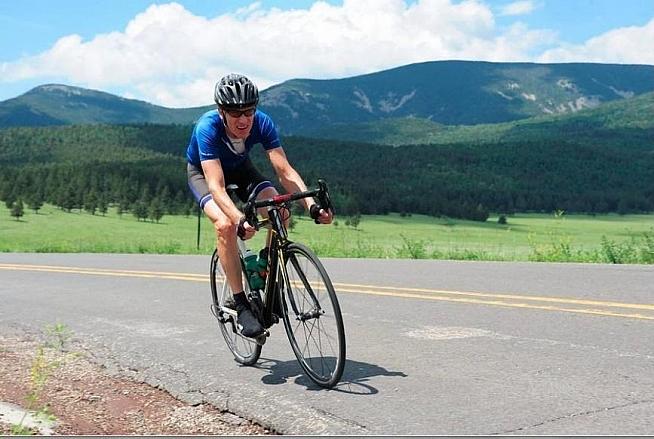 Time trialing inch-by-inch with a steady supply of gels, Madonna del Ghisallo prayers and the most annoying song in the world streaming in my earbud, Let It Go from Frozen, I close in on the finish.  Where in the hell did Let It Go come from??  Note to self: don't let wife use my Ipod, ever.  A few hundred nervous looks behind to make sure I'm not pipped at the line provide little confidence.  With legs cramping and threatening to lock up the finish line eventually rolls under my front wheel in 4:43 as monsoon rain dots my glasses.
Skipping the post-ride banter, I call it a day and put on my $3 rain jacket as dark skies release a cold drenching rain.  Fortunato, on the other hand, steps on the podium to enjoy the spoils of victory - a nice clean, warm, dry champion's jersey.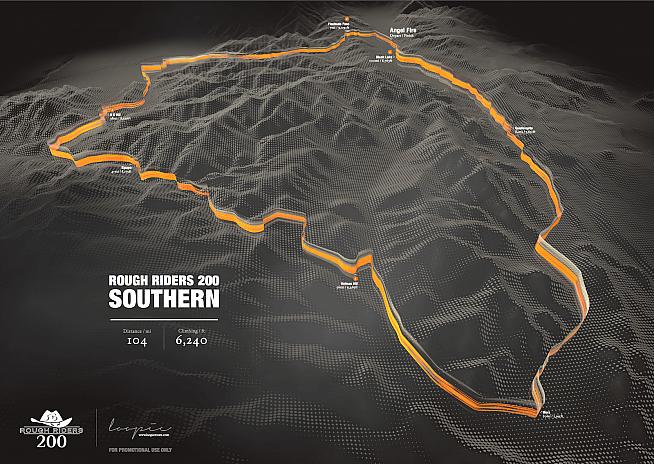 Without a doubt these rides are bucket list worthy.  Wonderful rural roads, breathtaking mountain views, challenging climbs and little traffic make for superb bucket list riding.  The courses are so good two other events use the same routes.  The Taos Gran Fondo on the southern loop and the Enchanted Circle Century on the northern.  Plus, both offer plenty of en route stores if you can't attend one of the rough, fondo or century events.  No matter how you do it, just do it.  These are must do bucket rides.  Just remember to pack a rain jacket...and check your playlist.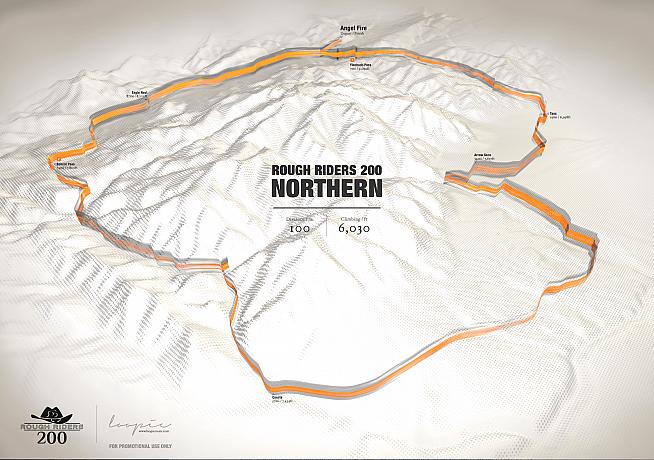 John is a former faux pro racer enjoying life as a geriatric cyclist in search of great bucket list rides to keep him in shape and out of trouble - well, at least in shape. 
He writes about his Bucket Rides in all their variety and glory for Granfondo.com. See his other pieces here
0 Comments