Dante's 10th Circle of Hell.  Surely this must be it.  Cartoon vultures circle my head.  Quads burn like fire with every pedal stroke.  Shoulders ache from relentless washboard pounding.  Around every turn another muddy climb looms.  This is Kebler Pass; this is the West Elk Bicycle Classic.
An hour ago I began this assault.  It's an epic battle.  Kebler is winning.  I'm losing.  The previous six hours of riding were heaven compared to this climb.  No idea how many miles or vertical feet remain.  Don't care.  Just want to finish.  Want the eternal suffering to end.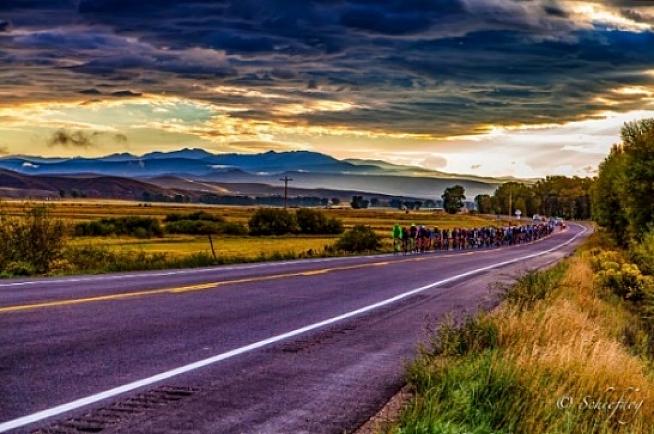 Up the road a photographer aims at me.
"Shoot me," I moan.
"Ok," moving to his knees.  Click.  Click.
"NO.  SHOOT ME!   Put me out of my misery."
"Sorry.  This is the best I can do."
"Me too..."
The prior evening when I arrived in Gunnison, Colorado, storm clouds covered the West Elk Mountains with a few rays of sun poking through from the west.  After picking up my number and swag I start my pre-race rituals.  
First, review weather forecast - partly sunny, high 65 low 41, 10% rain chance, light west wind.  Check.  Second, layout race kit - bibs, ss jersey, wind jacket, shoes, socks, gloves and rabbit's foot.  Check.  Third, pop a ZzzQuil so I don't lie awake all night questioning why I'm doing this and how I'll survive 135 mountain miles with 10,000ft of climbing and 30 dirt miles.  Check.
 Zzzzzzz.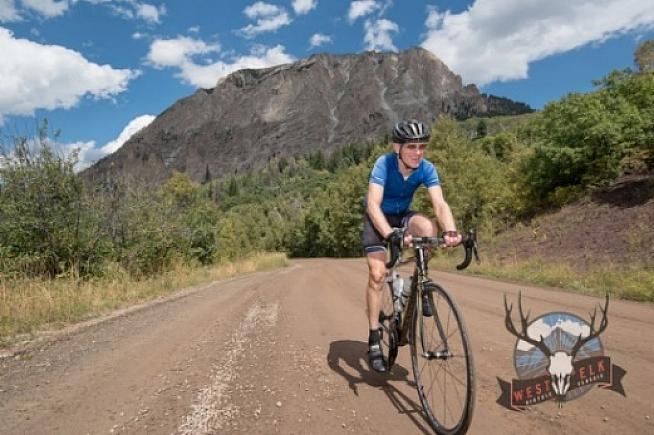 Opening the hotel door Sunday morning I stare at a cloud bank covering the mountains and snuffing out any chance of sun light.  Grabbing my laptop to check the weather I discover Econlodge wi-fi sucks.  Oh well, no chance for a last chance weather check.  So with rain booties, rain gloves, rain jacket and arm 'n' knee warmers safely buried in the bottom of my gear bag at the hotel I ride to the start.
A loud shotgun bang launches 200 riders from Western State Colorado University.  Riding west alongside the Gunnison River a light mist falls, dampening us and glazing the road.  Within 20 miles it turns into a cold soaking rain.  Rear wheels now launch rooster tail streams of water into the air while front wheels aim soaking streams into shoes.  The further we ride; the darker things look.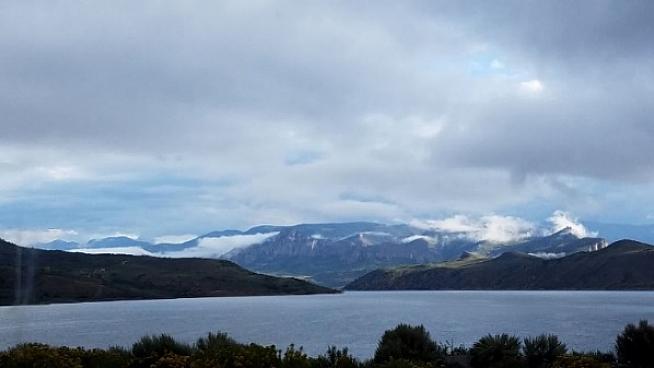 At Blue Mesa Reservoir my rear tire feels a bit soft.  Luckily, a few riders pull off for a nature break and I join them to add a shot of CO2, hoping that will do the trick.  We then work our way back to the peloton for the first climb - Black Canyon of the Gunnison.  It's not a killer climb, but a solid three miles on 3% grades.  Picking my way through the back markers I rejoin the front group at the top.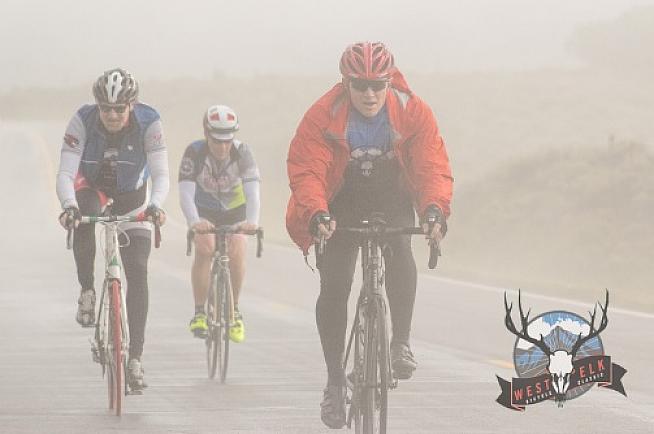 After a quick descent we're on the second climb, Black Canyon of the Gunnison V2.0 - This Time It's Gunna Hurt.  5 miles at 4.5% with numerous undulating sections.  Somebody drills the pace as we plow into fog thick as pea soup.  I'm cross-eyed and staring at bib #3.  Pointing, I ask the lady next to me "Who is it?".  "Ryan Trimble - new blood."  

He barely looks old enough to shave.  Watching him climb one word comes to mind - steezy.  That rare ability to do something difficult with style and ease.  On the other hand, I fluggle - flail and struggle without style and in the most difficult manner - to not stay on his wheel.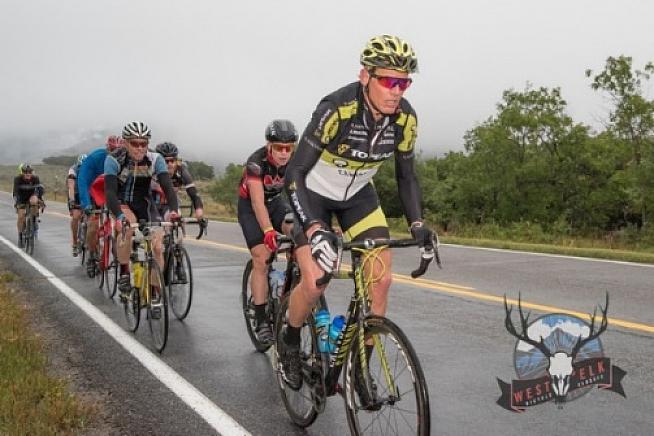 Joining a couple riders sawed off the back helps me get over the climb.  On the long backside descent into Crawford we try to limit our loss to minutes, rather than hours.  Off in the distance the front group motors, leaving a trail of soggy spent riders in their wake.
Finally, warm sunshine greats us in Paonia - Colorado's banana belt.  Orchards of apples, peaches and cherries dot the landscape.  A quick parade lap down main street and we stop at aid station #4.  With Formula One pit stop precision I slide in, grab a handful of Honey Stinger gels - plus a fresh peach, fill my bottles and jump back in the saddle.

For the final push to the foot of Kebler Pass I ride with Juan from San Jose - the stomping ground of my misspent youth and where I went off-track.  Well, actually it was on-track, the Hellyer Park Velodrome, where I went off-track, pursuing cycling in lieu of more traditional high school sports - like hacky sack, ultimate frisbee and surfing.

Juan looks to be about 35 and has all the markings of an experienced rider - shaved legs, chiseled calves, bling bike, 4% body fat, power meter and most importantly a calm relaxed style.  His pulls are solid, but he drops back on rolling climbs.  Since he's from sea level I take longer pulls and ease up on the climbs to help him out.  At 100 miles we pass aid station #5 with "HERE WE GO" written in big white letters on the asphalt.  The last thing I hear is a volunteer yelling "It's muddy up there!".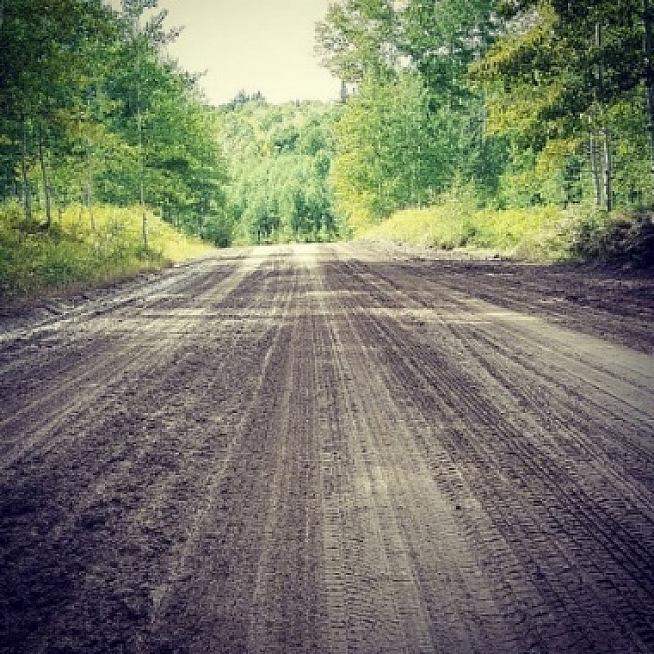 After the first mile of Kebler's devilishly steep grade in soft sponge-like mud with super-ball sized rocks covering the road I'm convinced the road writing is all wrong.  It should read "ENTER FOOLS AND ABANDON ALL HOPE."  Juan, who's sitting on my wheel, now pulls through with ease, like Contador when his loyal lieutenants are done.  Soon Juan is out of sight and I'm alone.  Damn, turned into a domestique without knowing it.  Beaten at my own game.  I must be getting old.
With each mile the mud gets worse and conditions deteriorate, as does my morale and performance.  Soon I pass the photographer - click, click.  It takes my mind off the suffering for a few seconds.  Crawling like one of those NASA rocket-transporters at full speed I instinctively try shifting to a lower gear.  There isn't one, but I keep trying, hoping for a miracle.  Up the road - way, way up the road from me - podium studs Stig Somme, Dave Wiens and 20-year-old rookie Ryan Trimble cross the summit of Kebler with Somme setting a new course record of 6:17:07.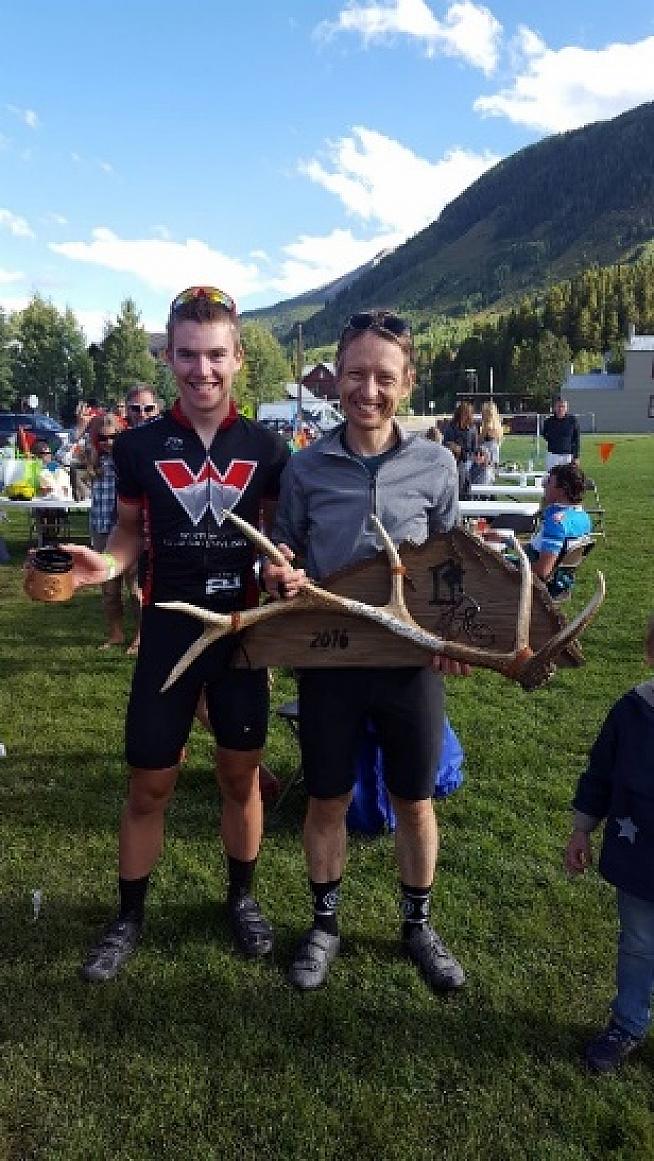 After another 50 minutes in muddy purgatory including volunteers tempting me with a shot of Rebel Yell whiskey I approach the summit of Kebler, desperately seeking the finish line.  Where is it?  The last mile takes forever.  Two forevers.  It's an infinite mile that just goes on and on and on.  Finally, mud caked, physically cracked and mentally broken I finish in 7:09:43 for 26th overall.  

Whew.  Now that was a bucket ride!

Without a doubt the West Elk Bicycle Classic is one of the hardest bucket rides I've done.  It's also one of the best.  It is unrivaled, unequaled and second to none.  The course might feel like hell at times, but the promoters, photographers, volunteers, medics, motos, sag drivers, spectators and course marshals are all Angles of Awesomeness.  That's the West Elk Bicycle Classic.

1 Comments