There are four changes to the 2018 Alabama Backroads Century Series, which kicks off with the incoming Restoration Ride out of Childersburg on March 17.
As it did in 2017 for the first time, the series concludes with Mobile's Gear & Beers: Bayou 100 in Mobile on November 10.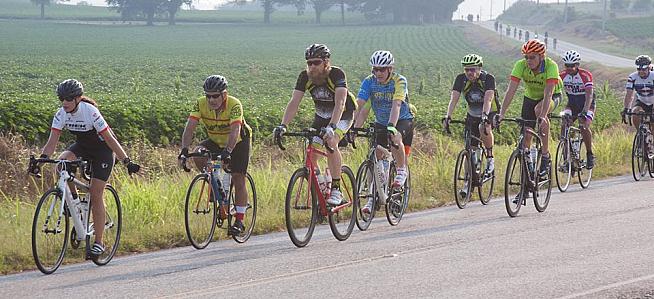 The Fenner Ride in Milton, Fla., an experimental "Out-Of-State Invitational" in 2017 does not return.
The other rides dropping out are the early season pair of Tour Autauga and Tour de Blue, and Montgomery's Cycling For Sight.
In their place are Highway 2 Hale, based in Moundville, The Children's Home Challenge in Talladega and the returning All You Can Eat Century, in Huntsville.
The Cheaha Challenge century is once again the only US opportunity to qualify for the World Championships of the UCI Gran Fondo World Series. The 2018 Championships are in Varese, Italy.

The ABCS was set up to promote long-distance cycling in Alabama and support the century rides in the state as well as benefitting charity and advocacy. Sponsors include Pepsi, Academy Sports + Outdoors, Primal and BlueCroiss BlueShield of Alabama.

Each of the events in the series awards Centurion medals to finishers.

Those who complete the "Challenge" of riding four events receive an embroidered patch and those riding 10 centuries earn an ABCS "Champion" jersey from Primal.

A roll of honor of all finishers is maintained on the homepage of the ABCS.

2018 Alabama Backroads Century Series

March 17          Restoration Ride, Childersburg

April 7               Cyclepaths Challenge, Monroeville

May 5               Spring Krusher, Elkmont

May 20             Cheaha Challenge & Ultra, Jacksonville

June 2              TriStates 100, Dothan

June 9              Highway 2 Hale, Moundville

July 21              W.C. Handy 3 State Bike Ride, Florence

August 25         North Jefferson Century, Gardendale

September 15   All You Can Eat Century, Huntsville

September 29   Birmingham Bicycle Club's BBC 100, Ashville

October 13        Glassner Autumn Challenge, Pintlala

October 27        Children's Home Challenge, Talladega

November 10    Gear & Beers: Bayou 100, Mobile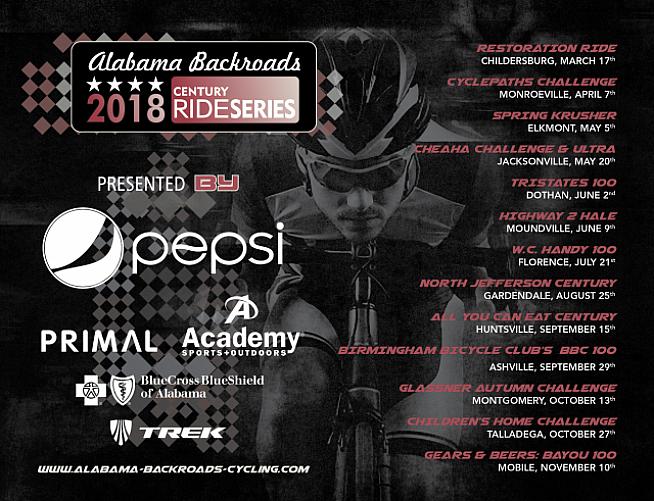 0 Comments