Strava has renamed its premium offering and split it into use-targeted components, which can be bought separately or bundled together.
Pricing stays the same for the whole lot at $59 per year or $7.99 a month. Each pack is $2.99 monthly or $23.99 annually.
The three options are Training, Safety and Analysis. All offer Premium Perks, a package of discounts on purchases and services from the likes of New Balance, Competitive Cyclist, Peppermint and Science in Sport, and faster customer service through Premium Support.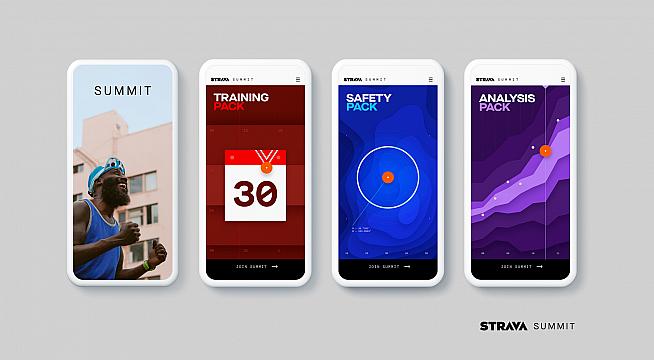 Safety
Safety's main feature is Beacon safety tracking, which allows friends and family to see where you are in real time. There are also activity heatmaps.
Training
Training claims to offer everything you need to train better and achieve your targets, including training plans and personalized goals.
Analysis
Analysis is designed to exploit the information produced by your cycling gadgets with power analysis and tracking  of fitness and freshness among other things.
(See below for a full list of each package's features.)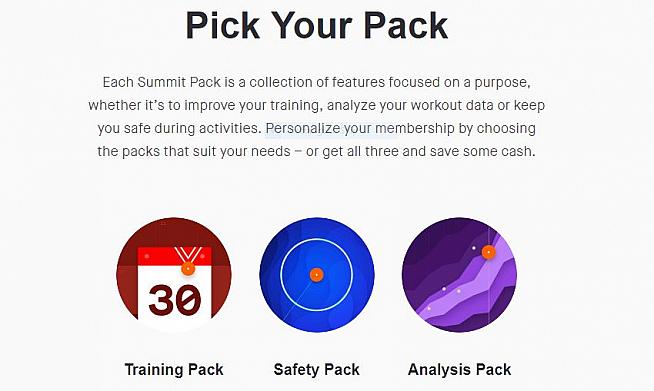 The T-shirt emblazoned with the words "If I crash pause my Strava" I spotted at Alpe d'Huez in July is a good indication of how engrained the Strava app is in the cycling world.
From beginners to pros, our orange digital tracks are there for all to see and each month a million more of us sign up, including recently my wife as a result of Strava teaming up with her addiction - Flywheel. (And, yes, I still object to references to what I do as outdoor cycling.)
For all the growth Strava is not turning a profit and the Summit change is aimed at convincing those exploiting the free part of Freemium to pony up for some premium features for about the price of a latte a month.
The good news is that the "Free" section of the model remains as it is and current Premium users will pay no more for Summit.
Summit
Each Summit Pack is a collection of features focused on a purpose, whether it's to improve your training, analyze your workout data or keep you safe during activities. Personalize your membership by choosing the packs that suit your needs - or get all three and save some cash.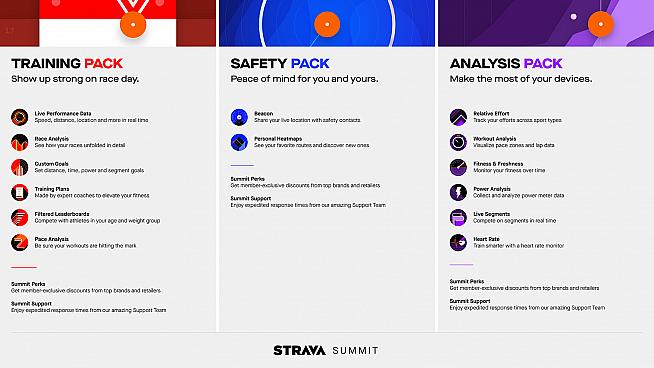 Training
All the tools and insights you need to reach your goal and train smarter. Whether you've got an upcoming race or are trying to get in better shape, this package is for you.
Custom Goals
Stay motivated with personal time, distance, power and segment goals.
Training Plans
Get plans from the best coaches in the business.
Race Analysis
Detailed post-race breakdowns of your performance.
Filtered Leaderboards
Level the playing field when you filter leaderboards by age or weight.
Segment Efforts
Relive your efforts and see how the race was won.
Safety
Explore new roads and trails, all with peace of mind from Beacon. Share your real-time location with safety contacts and see where you've been with Beacon safety tracking and exclusive heatmaps.
Beacon
Give friends and family peace of mind with private access to your live location during activities.
Personal Heatmaps
Generate unique visualizations of all the places you've been active.
 Analysis
Get more insight from your dedicated GPS device, heart rate monitor or power meter.
Get the most value from your connected devices with features that help you decode your data.
Relative Effort
Track your intensity across sport types, see your fitness trend and stay consistent with your training.
Fitness & Freshness
Track your fitness over time and understand the impact of your training.
Workout Analysis
Visualize your pace zones and lap data for all your run workouts.
Live Segments
Compete against your best efforts or others' in real time.
0 Comments