Fresh off the last event of 2017 at the Chilean stop of the the global series, GFNY is promising a 20-race series for 2018. New events from Poland to Panama are among the 15 confirmed rides.
Three 2017 races will not feature in 2018 with three others working on new locations and up in the air at this point.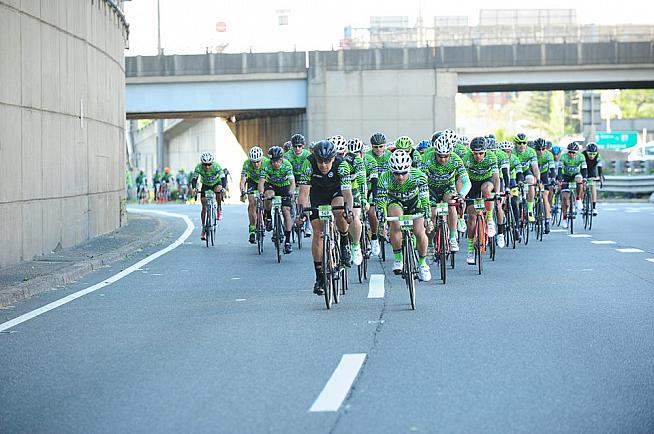 Bali, Monterrey, Costa Rica, Jerusalem, Poland, Portugal and Panama are the seven additions to the series (full list below).

GFNY Indonesia is moving from Lombok to Samosir while Italia, Argentina and Malaysia are the trio that may or may not reappear in 2018.

"We're working on a new location for Italia but it's 50:50 to happen already in 2018. Think big city start and high (very high) mountain finish," said GFNY founder Uli Fluhme.

"Argentina and Malaysia are also moving to a new location, details TBC but with a good chance of them to happen in 2018."

Mexico City will not run in 2018 due to the logistical nightmare caused by elections while GFNY Mont Ventoux and Provence have been cut due to organizational issues, he said. It appears that the Ventoux event will continue as the Santini GF Ventoux.

Santa Fe, New Mexico, is a possibility for the first US GFNY outside new York City as we reported several weeks ago.

"There are 3-4 others that are likely to be added in 2018 but too early to mention," said Fluhme.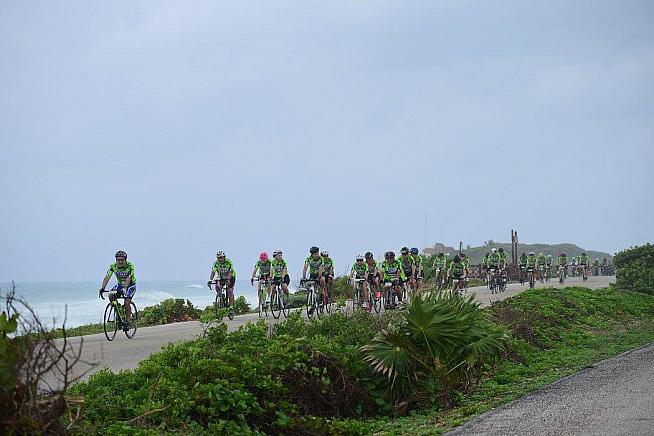 None are likely to feature anything as steep as GFNY Chile's 'El Muro de Tunquen' which is s grade of  37% at its steepest. Those in the sold-out field of 1,500 running 39x23 must have regretted it.

Much like the pro circuit, GFNY has a very short offseason with GFNY Bali kicking off 2018 on February 4 and Chile (and The Wall) once again hosting the last event of the year, on 25 November.

The first GFNY on what is now the Championship course from the George Washington Bridge north to Bear Mountain and back to Fort Lee was run in 2011. In 2014 GFNY Italia and Cozumel began the international expansion with the roster growing to eight in 2015, 10 in 2016 and 13 in 2017.

Read our ride reports:

GFNY NYC  2015, NYC 2016, NYC 2017

2017 also saw the first regional championships.

Riders finishing in the top 10% of any GFNY World event or 20% of a regional championship receive preferential positioning in the start pens if they travel to the New York championship, which is on May 20 in 2018.

The Campagnolo GFNY World Championship NYC saw riders from 93 countries take part in 2017 giving it a strong claim to be "cycling's most international peloton".

In 2018 the regional GFNY Championships are Indonesia-Samosir (Asia), Germany-Hamelin (Europe), Mexico-Monterrey (Latin America) and Israel-Jerusalem (Middle East - Africa).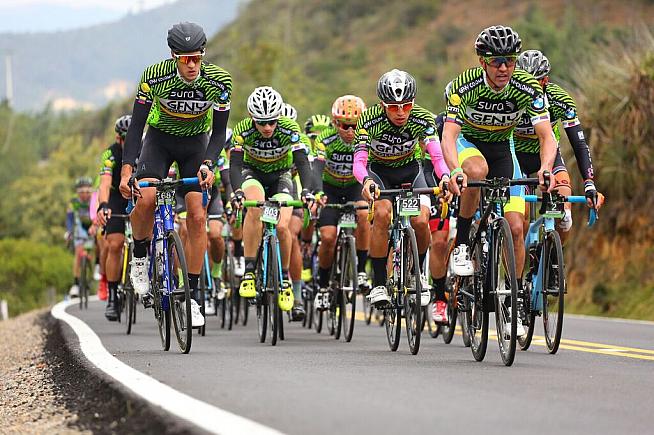 The GFNY World events are organized by local promoters who have to meet the standards specified by founders Lidia and Uli Fluhme.

These include:

• Closed roads or police-moderated traffic with right-of-way at all intersections 

• Start-to-finish chip timing

• Rankings based on finish time and a podium awards ceremony

• Finisher medal

• Official made in Italy race jersey, which is mandatory for the race

"Today, the GFNY calendar defines the cycling season of thousands of athletes around the world," said Uli Fluhme. "Riders seek the consistent high quality that GFNY offers, whether it's the race experience, when choosing the Made-in-Italy GFNY Cycling Apparel or GFNY Coffee."

2018 GFNY World calendar

4 February     GFNY BALI

25 February   GFNY LATIN AMERICA CHAMPIONSHIP MONTERREY 

18 March       GFNY COLOMBIA

18 March       GFNY URUGUAY 

22 April          GFNY COSTA RICA 

27 April          GFNY MIDDLE EAST-AFRICA CHAMPIONSHIP JERUSALEM 

20 May          GFNY WORLD CHAMPIONSHIP NYC

27 May          GFNY POLSKA-GDYNIA

5 August        GFNY BRASIL

2 September GFNY EUROPE CHAMPIONSHIP DEUTSCHLAND 

2 September GFNY ASIA CHAMPIONSHIP INDONESIA-SAMOSIR

9 September GFNY PORTUGAL

21 October    GFNY PANAMA

11 November GFNY COZUMEL-MEXICO 

25 November GFNY CHILE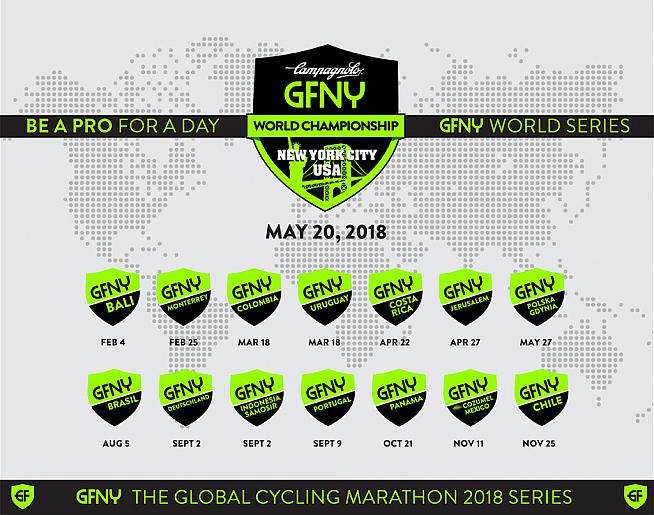 0 Comments