Absent crashes and multiple punctures pretty much any ride is a good ride. That said, the best gran fondos and gran fondo-like rides elevate the good to the great.
Here we present 10 North American rides that we think deserve to be on your bucket list for 2018.  
Our selections lay out their signage markers from Alabama to the Pacific coast of Canada and from California to New England.
There are gravel sections, absurd gradients, mass starts, closed roads, gorgeous jerseys, starts on the busiest bridge in the world and at a rural Elks' lodge, monstrous amounts of climbing, stunning views, races and rides (... which are usually also races really), chilly Pennsylvania tributes to the Spring Classics and baking summer heat in Texas.
Each one on its own is worthy of being a target for the year or part of a series of top-notch rides. We have not ranked them one to ten as that seemed very subjective and a touch ridiculous.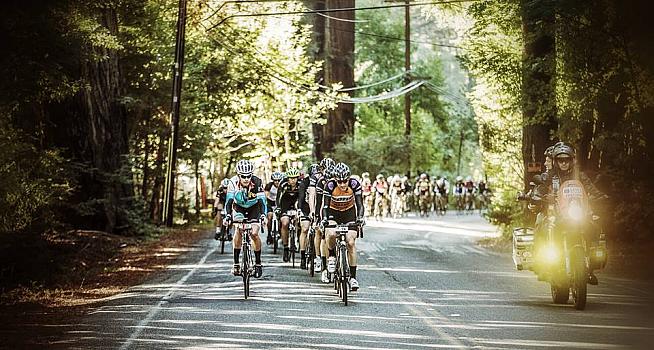 We have opted for challenging rides that test the rider in keeping with the European origins of the gran fondo and sportive/sportif. Not everyone will agree with our choices, but rest assured no commercial pressures or pandering to advertisers has skewed the list.
We have stuck to one-day events and we've also limited it to rides suitable for standard road bikes. Not all are called gran fondos, but all have the gran fondo spirit.
After these rides, those in the know will tip their head in acknowledgement and non-cyclists will find it hard to believe when you explain what you did.
We like mass starts, end-to-end timing, tough courses, unique features and good organization. Not all 10 tick all those boxes, but what they all share is that degree of challenge.
There's a reason that the original L'Etape is on a mountain stage of the Tour de France each year, why the Marmotte goes over the Glandon and Galibier before finishing on the hairpins of Alpe' d'Huez and why the Maratona of the Dolomites with its seven climbs is so special.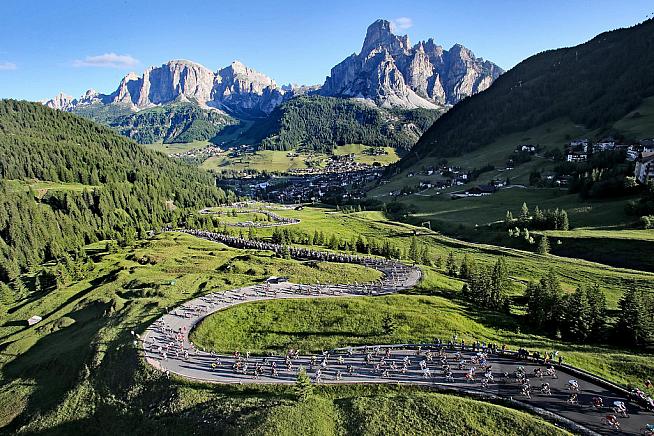 Yes, you can normally ride the roads these events take place on for free 364 days of the year. A good gran fondo makes you think it's been good value whatever the cost (and some are not cheap).

Some of the 10 are clearly not for the novice. If you're new to the wonderful world of cycling set them as targets for 2019 or 2020 or take on a shorter route when offered. 

Register early and get training!

In calendar order, here are granfondo.com's Top Ten Gran Fondos For 2018:

Hell of Hunterdon

Where: Blawenburg, New Jersey
When: March 18
How Far: 81 miles
How Much Climbing: 5,700 feet / 1,737 meters
Organizer: Kermesse Sport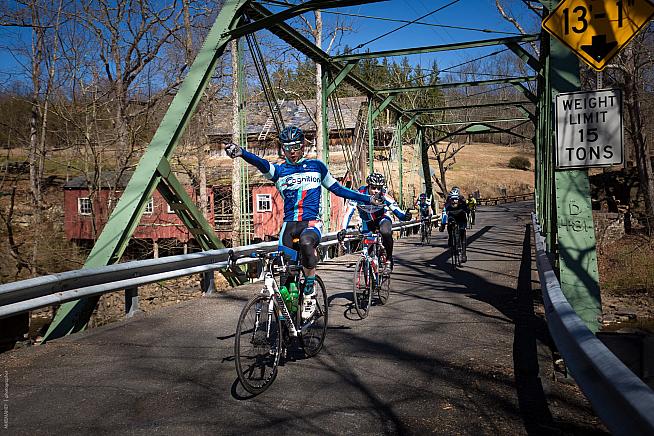 This is a brutally "Belgian" start to our bucket list. A tribute to the European Spring Classics named after Paris-Roubaix, the challenging course features 19 sections of dirt, gravel, and hardscrabble roads as it winds its way through scenic farmland and country towns in New Jersey's Sourland Region. Wrap up warm for this early season test. The field is capped at 750 and normally sells out in 48 hours.
In their own words: The Hell of Hunterdon is the Mid-Atlantic's Premier Spring Classic & Mixed Surface Ride; it is the ideal way to open your cycling season.
Read the 2015 ride report. Read the 2016 ride report.
Where: New York City / New Jersey
When: May 20
How Far: 100 miles (also Bear Mountain Challenge of 50 miles)
How Much Climbing: 8,500 feet / 2,800 meters
Organizer: GFNY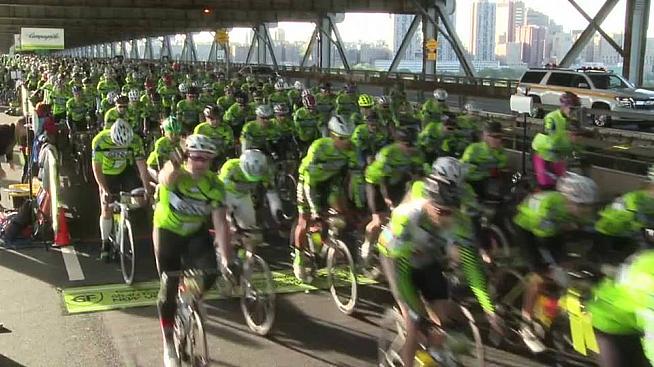 The start on the George Washington Bridge (set your alarm early to make it to your corral) is like nothing else with an international field from almost 100 countries. On the largely closed roads, GFNY is very fast at the front like a true Italian gran fondo and not an event for those nervous about riding in a big peloton. The course is hilly tough despite the lack of huge mountains and the whole event is an organizational triumph.
In their own words: BE A PRO FOR A DAY
Read the 2015 ride report. Read the 2016 ride report. Read the 2017 ride report.
Where: Jacksonville, Alabama
When: May 20
How Far: 100 miles (five other distances from 24 to 124 miles)
How Much Climbing: 9,700 feet / 2,961 meters
Organizer: Northeast Alabama Bicycle Association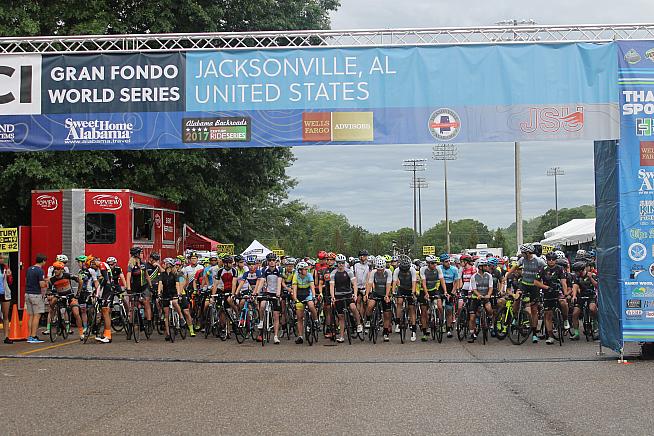 The Cheaha Challenge is the only US qualifier event for the UCI Gran Fondo World Championship and a mainstay of the thriving Alabama Backroads Century Ride Series. The out-and-back course from Jacksonville State University takes riders over Mount Cheaha, Alabama's highest point from two directions.
In their own words: The toughest ride in the South
Where:
Cottage Grove, Oregon
When: June 2
How Far: 137 miles (10% gravel) (three other distances from 42 to 117 miles)
How Much Climbing: 7,668 feet / 2,337 meters
Organizer: Mudslinger Events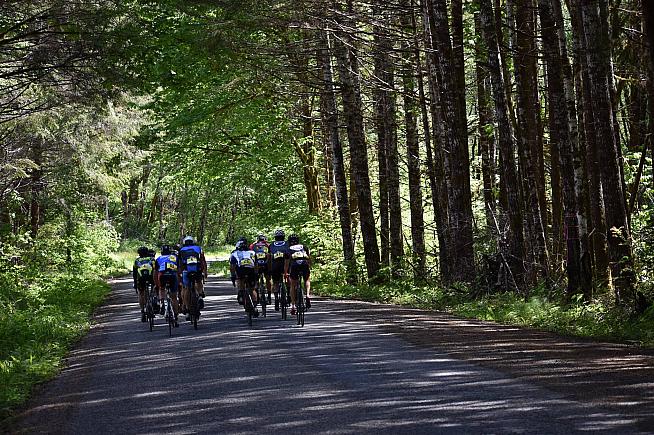 Part of the Oregon Triple Crown Series, the Oregon Gran Fondo winds through stunning Pacific Northwest scenery on quiet roads. Enthusiastic volunteers supply the refreshments you will need after some of the big climbs southwest of Eugene.
In their own words: Truly a ride for everyone that is up for the challenge!
Where: Clovis, California
When: June 30
How Far: 155 miles (also the Tollhouse Century and Millhouse Metric)
How Much Climbing: 15,000 feet
Organizer: Fresno Cycling Club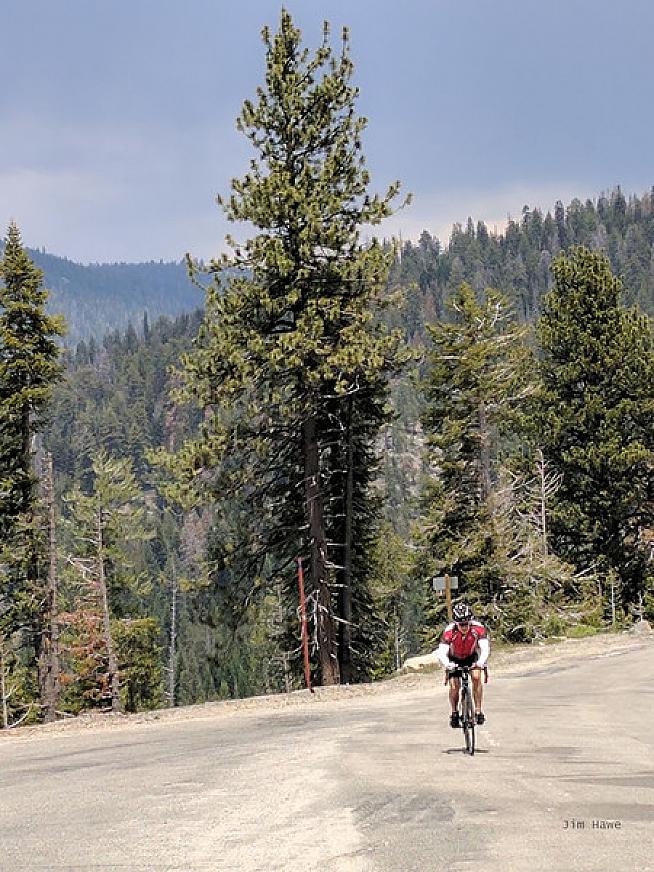 With one of the most amusing logos around and a recommendation of seriously low gearing, the Climb to Kaiser manages the difficult feat of combining laughs with serious suffering. Now in its 42nd year, anyone wearing the C2K finisher's jersey has without question earned it by reaching the top of Kaiser Pass Road deep in the Sierra National Forest.
In their own words: Gearing of 36 X 32-36 or a triple is highly recommended.
Where: Middlebury, Vermont
When: June 30
How Far: 114 miles (and three other shorter distances)
Climbing 10,736 feet / 3,272 meters
Organizer: Cycle Addison County, Inc.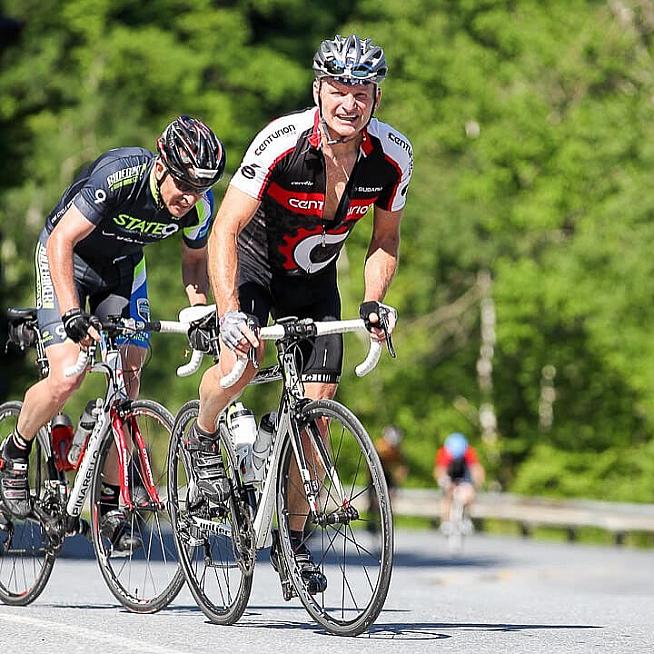 Vermont is the Green Mountain State and the Vermont Gran Fondo makes the most of it. What would be cols in the Alps or passes in other mountain ranges are gaps in Vermont and VTGF was inspired by the infamous LAMB -- the Lincoln, Appalachian, Middlebury and Brandon gaps. The 2018 course returns to these classic climbs including the leg-wrecking east side of Lincoln Gap with its 24% maximum grade and an average grade of 15%, the steepest paved mile in the U.S. The original organizers wanted "something else in the mix" beyond relaxed recreational rides and, boy, they are hitting that nail square on the head.

In their own words: The VTGF is truly a challenge. Ride it if you can.

Where: Wichita Falls, Texas

When: August 25

How Far: 100 miles (and multiple other distances)

How LITTLE Climbing: 1,025 feet / 312 meters

Organizer: HHH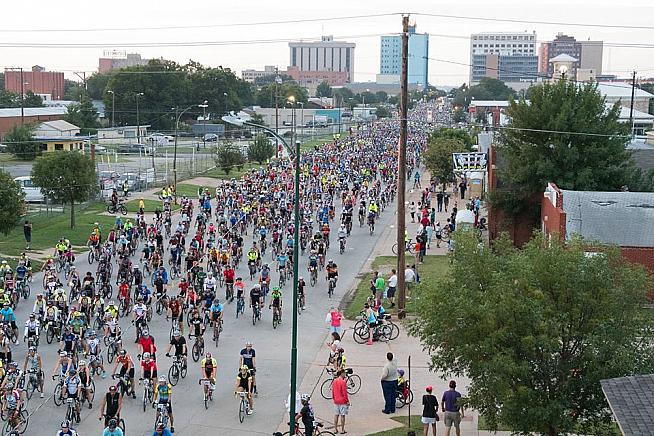 You don't always have to head uphill to be challenged. Windswept, barren and winds like a blast furnace are common descriptions of the HHH, oh, and hot, very hot. The ride's origin came in 1982, Whichita Fall's centennial, with 100 miles in 100 degrees to mark 100 years. Well north of 10,000 riders congregate for the weekend, which features a multitude of rides and crit races, and HHH can claim to be one of the biggest cycling gatherings in the world. A thousand volunteers and staff and years of experience are on hand to help riders cope with the temperatures and put that tick on the bucket list.

In their own words: The Greatest Weekend On Two Wheels. A Texas "Ride" of Passage.

Where: Golden, Colorado

When: August 26

How Far: 91 miles (also 63-mile medio and 20-mile piccolo)

How Much Climbing: 10,860 feet / 3,310 meters

Organizer: Gran Fondo National Series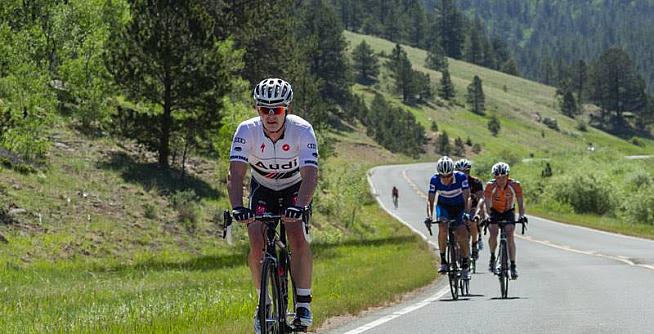 The course climbs from downtown Golden to the stunning Peak to Peak Highway showcasing high-altitude climbs, dirt sections and soul-lifting panoramas of the Rockies before returning to Golden. Another ride that recommends the easiest gearing you own, GFNS Golden is the 10th of 11 events in the Gran Fondo National Series with series points up for grabs on the timed sections.
In their own words: The Gran Fondo National Series offers not only the hardest road racing series in the nation, but also the most fun!
Where: Vancouver to Whistler, British Columbia
When: September 8
How Far: 94 miles / 151 km (Gran Fondo is 76 miles / 122 kms)
How Much Climbing: 10,100 feet / 3100 meters
Organizer: RBC GranFondo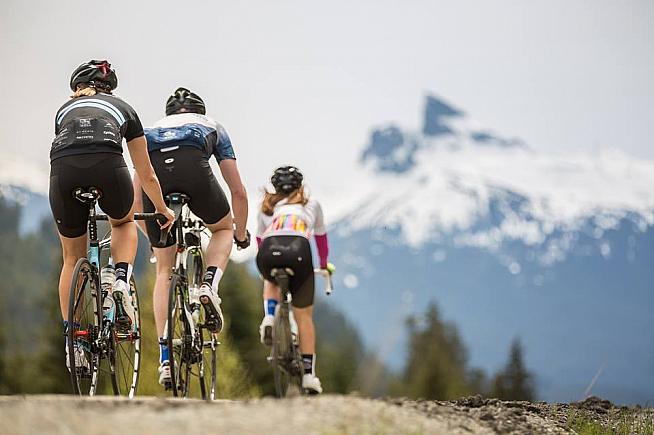 Limited to 250 riders, RBC Whistler's Forte route punished the legs early with the 3,000-foot switchback climb of Cypress Mountain just north of Vancouver before heading straight back down to join the huge gran fondo field on the beautiful Sea-to-Sky corridor. With closed roads all the way to Whistler for the huge field and slick organization, RBC Whistler is a compelling reason to head north of the 49th prallel.
In their own words: Take the challenge. Join the ride.
Where: Santa Rosa, California
When: October 6
How Far: 117 miles (multiple other distances as well)
How Much Climbing: 10,500 feet
Organizer: Bike Monkey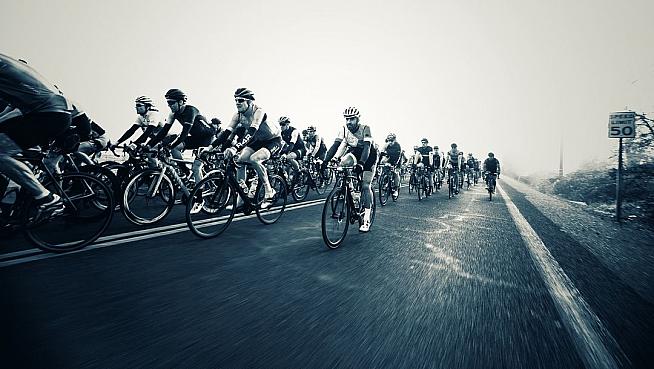 In its nine years of existence Levi's has become a benchmark for the American gran fondo. Blessed by the terrain of Northern California around Santa Rosa and beautifully staged it is always one of the first names on any bucket list of gran fondos. For its 10th anniversary radical change with a three-day festival and lower prices is promised. Hats must be tipped to the organizers for being brave enough to change a winning formula. We're willing to bet they pull it off.
In their own words: Welcome to America's Premier Gran Fondo
0 Comments